A new Town Manager will be arriving at Orleans Town Hall in the coming months — for the first time in 26 years.
It's a big job, arguably the single most critical position in our town's government. It means overseeing a dozen departments and a $52 million budget. The impact of the new hire could be tremendous. An individual with the proper experience, vision, and collaboration skills could help bring our priorities into focus and turn our town's dreams into realities.
Have you noticed the exciting new developments underway in Eastham, Brewster and Chatham? Major land acquisitions, community centers, a new town center, more affordable housing. What do they have in common? Our neighboring towns have dynamic, skillful, persistent Town Managers/Administrators leading the way.
---
THE SEARCH IS ON. . .
The search for our next Town Manager — previously called "Town Administrator" — has been underway since December, when John Kelly stepped down after 26 years at the Town's helm. Until a new Town Manager is chosen and can start, Charles Sumner, a seasoned Town Administrator with 29 years of experience in Brewster, plus interim stints in Truro, Provincetown and Wellfleet, is filling in.
The Orleans Select Board hired Rick White, an experienced consultant with Groux-White, a municipal management consulting firm, and a former Town Administrator in both Lexington and Dennis, to guide the search. Since early January, he's been meeting with staff and residents, including board and committee members and the Town Manager Search Committee, talking with prospective candidates and gathering names. Click here to see the job description on the Orleans Town website.
"The response to the job opening should be strong," Sumner told EXIT 89. "Orleans is a beautiful, well-run town with lots of resources and a very engaged population. Sure, it's a demanding, grinding job. But it's a very attractive job for the right person."
In mid-March, White will present a list of candidates — 8 to 10 names, he hopes — to the Town Manager Search Committee (you can read its charge here) chaired by Mike Gradone, the former longtime Superintendent of Nauset Public Schools. That committee will review and interview candidates, then whittle down the selection to two or three finalists by early April. From those finalists, the Select Board will choose the new Town Manager.

In the meantime, you — and everyone else in Orleans — have an important role to play: the Search Committee wants your input. They've created a survey offering you a chance to weigh in on what kind of leadership traits, professional skills, and personal attributes you believe the next Town Manager should possess. They will also be hosting a public forum to solicit similar input on Monday, March 13, from 6-8 PM. You can attend in person at Town Hall (in the Nauset Room) or join remotely. Click here for the Zoom link.
---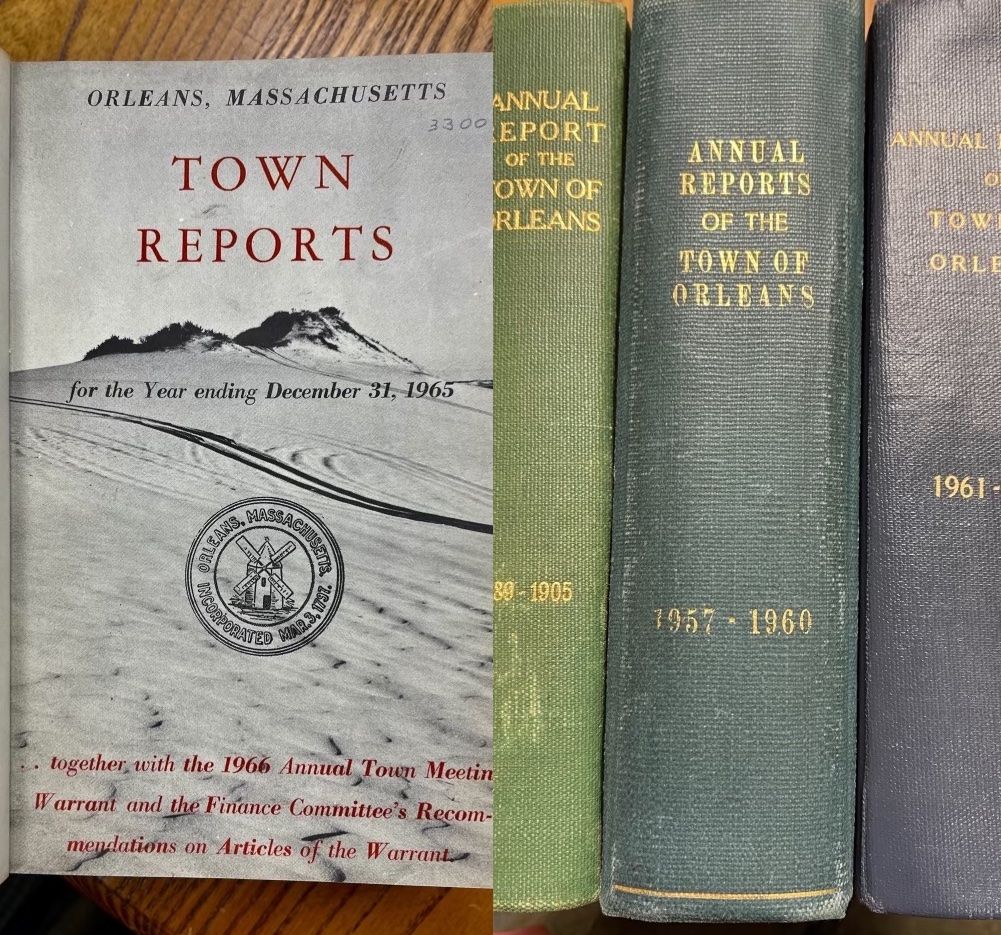 A LITTLE HISTORY
Back in the day, Orleans and Eastham were one town, called Nauset, run by a group of "First Comers," or the earliest white settlers — Thomas Prence, Nicholas Snow, John Doane, Edward Bangs, Richard Higgins, John Smalley, and Josias Cook. Snow became the first Town Clerk and Treasurer in 1646, and was succeeded by his son Mark, who became Commissioner in 1679.
When the town of Nauset divided, the first Orleans Town Meeting took place on March 16, 1797, with Hezekiah Higgins, Judah Rogers and Heman Linnell presiding as Selectmen. By the next census, in 1800, the town is described as having a population of "1,095 inhabitants" and "174 families" who occupied "142 dwelling houses."
An elected Select Board ran the town for 190 years — doing all the hiring, firing, and oversight of the budget and operations. The Orleans government's modern era arrived in 1987, with the adoption of our Charter, which laid out the governmental structure and many of the processes now in effect. A key provision in the new Charter was a new leadership role: a hired "Town Executive."
Our first Town Executive was Alan F. Perrin, who was hired in 1988 at a salary of $52,190. When Perrin died unexpectedly of a heart attack 22 months later — at just 47 years old — he was replaced by Nancymarie Schwinn, who spent six years in the job. Stephen Patch and William Hinchey both served as interim executives in 1996, while the Select Board searched for a new "Town Administrator" (a title change designated by a Charter change).
That search yielded 129 applicants. John Kelly of Walden, NY, was offered a contract in September and began work as Town Administrator on November 12th. According to the 1996 Town Annual Report, "after moving to Orleans with his wife and three children. He was settling into the job at year-end, following a warm welcome from employees and townspeople."
Over the next two and a half decades, Orleans and greater Cape Cod, not to mention the world, has changed tremendously. Just think: When Kelly started at Orleans Town Hall, a Happy Meal at McDonald's cost $1.99 and mobile phones looked like this. Bill Clinton was finishing his first term as President, the climate crisis (then called "global warming") was a "fringe" concept, ER, Seinfeld, and Friends ruled the airwaves, and Tom Brady was riding the Michigan Wolverines' bench.
As for Orleans, the Binnacle was the place to be on a Saturday night, the Transfer Station was the "dump," seals and sharks were rare sightings, and the average sale price for a single family home in 1996 was $246,100. (Take waterfront and water views out of the mix, and it was $205,000.) Also, our annual town operating budget (see page 60 of the 1996 Town Report) was $15,072,94 — less than one-third what it is now.
The number of year-round residents in 1996 was not much different — 6,800 — but their political affiliations were. In 1996, there were 5,112 registered voters: 1,513 Republicans, 887 Democrats, and 2,712 Unenrolled or Independent voters. Contrast those numbers with the 2022 Town Report (to be published next month); of 5,659 registered voters in Orleans, there were 792 Republicans, 1,491 Democrats, 3,326 Unenrolled or Independent, and 50 "all others."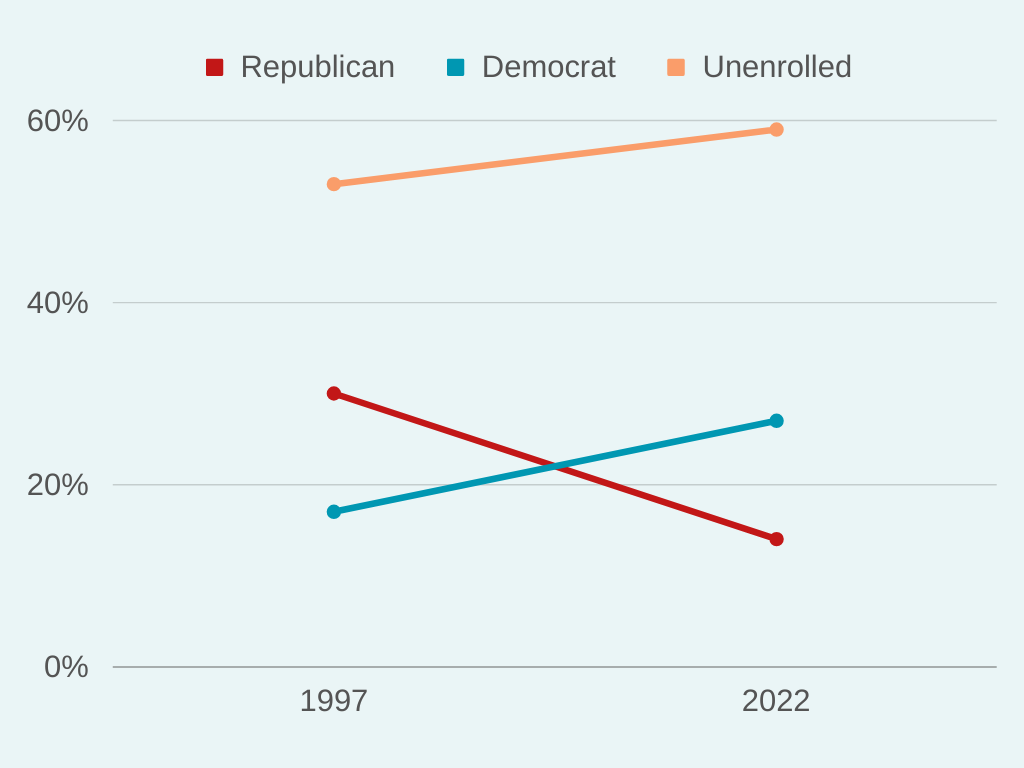 The Binnacle is long gone, its former home on Rt. 28 vacant and overgrown. Four Presidents have held office since Bill Clinton. Our cell phones are "smart." The seals and sharks are expected summer residents. And we are in the throes of a global climate crisis, as well as a national and local housing crisis. As of this writing, the median listing price of the 42 homes for sale in Orleans was $1 million.
Here's how Rick White describes the changes he's seen and heard about in Orleans — and how they will impact the next Town Manager's work: "Twenty years ago, a Town Manager had a classic, 'old Cape Cod' focus — low tax rate, making sure a limited number of basic services were done well, with an eye on just enough to please the summer and shoulder season crowd. But Orleans, like many other Cape towns, has changed dramatically since those days. There's a different breed of retiree and resident with different service expectations."
White sees a trend of more involvement in town government and greater demands for transparency. For their Town Manager, people in Orleans "want more of an aggressive problem solver and less of a gatekeeper."
---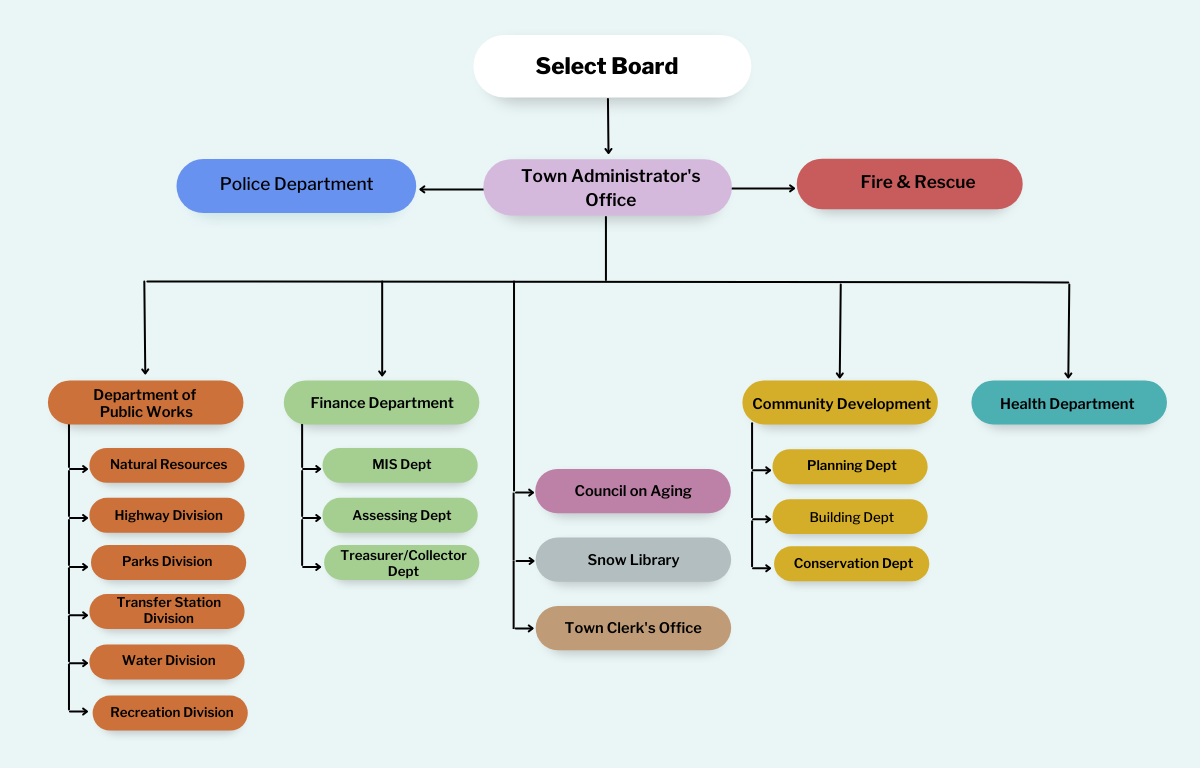 NUTS AND BOLTS
A basic job description is in Chapter Four of our Town Charter.

It begins with: "The Town Administrator shall be the chief administrative officer of the Town and shall be responsible for administering and coordinating all employees, activities and departments placed by General Law, or Charter or By-law under the control of the Select Board or the Town Administrator." (In Orleans, this means all departments except the Police, Fire, and School Departments.)

The Town Administrator is also tasked with implementing the goals and carrying out the policies of the Select Board.

This includes (among other duties):

● Preparing the Town Budget and Capital Improvements Plan for Town Meeting (via the Select Board and Finance Committee)
● Administering the budget and Capital Improvements Plan
● Day-to-day management of personnel system
● Chief procurement officer for Town (not including the School Department)
● Tracking and making the Select Board aware of available State and Federal funds, and soliciting and preparing applications for those grants
● Overseeing the enforcement of zoning, acting through the Building Inspector or a zoning enforcement agent
● Developing, maintaining, and annually updating a full and complete inventory of all real and personal property of the Town, except school property
● Negotiating collective bargaining contracts on behalf of the Select Board, unless the Board designates someone else
It also means:
● Appointing most Town department heads, Town employees, inspectors, and other full-time, part-time or seasonal employees (except, again, those of the Police, Fire and School Departments)
● Hiring a Town Clerk, a Town Treasurer-Tax Collector, an Assessor, and a Director of Public Works and Natural Resources

With the Select Board's approval, the Town Manager can also establish, reorganize, consolidate or abolish any department or position under their jurisdiction, as long as they act in accordance with Massachusetts law and the Town Charter.
Sounds like a big job for one person, right?
If our new Town Manager takes the advice of Jacqui Beebe, Eastham's Town Administrator, it could be a job done better by two people. Beebe believes an early priority for our next Town Manager should be getting the approval of the Select Board — and possibly a Town Meeting vote if a Charter change is required — to create an Assistant Town Manager position. "No question, it's essential," Beebe says. "Having two individuals sharing that job makes it do-able. It's better for staff, and creates more continuity, too." (Want to hear more from Beebe, who's shepherding in a new era in Eastham? Read on.)
How's the pay? Annual Town Manager salaries in our region range from $158,000 to $210,000 annually. According to the advertisement posted, Orleans plans to offer between $190,000 and $210,000.
---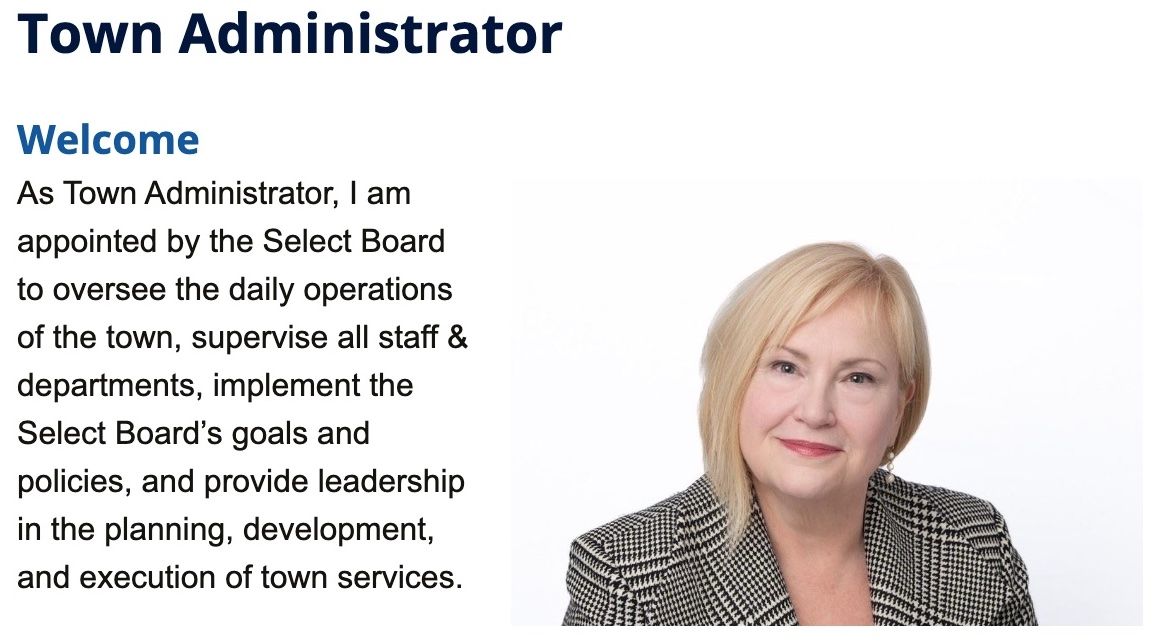 "GETTING STUFF DONE"
The right individual will be energetic, creative, experienced, and collaboration-minded. They will also understand the community — what it's been, what it is now, and what it aspires to be.
One way to understand the community is to live in it. Some Town Managers live in the town they manage, while others don't — and prefer it that way. "It's an interesting debate among people in our profession," says Charlie Sumner, who raised his kids in Brewster, where he was Town Administrator and is now Moderator. He says that by living in town, or nearby, "you really get a better understanding of the issues — and the history behind them."
On the other hand: "If you live in the community where you work, it can become hard to just take a walk, or go to a sports game, and not have people coming up to you with a question or concern. In that way, you're always at work."
Bob Lawton says there are "both positives and negatives to living in the town where you're working." He spent 32 years as the Town Administrator of Yarmouth, and did several stints as Interim Manager in both Yarmouth and Harwich. "But in reality, your phone can ring anytime, no matter where you live."
Cape residents want more — and expect more — than ever before. After conducting his study, Rick White describes Orleans as a vibrant and engaged community that's concerned about environmental issues, shoreline preservation, and the regional housing crisis, among other things. While the population has been relatively stable over the last few decades, an influx of remote workers, as well as more affluent retirees, has shifted priorities.
They want "more services, more involvement in government, more transparency," says White." A good town manager will handle the basics, but more importantly, will also be able "to see what a community needs, and find ways to build systems and processes to fulfill those needs. The job is about getting stuff done."
Jacqui Beebe says the most important qualities in a Town Manager are "integrity, real honesty and bravery. You have to be able to engage in really difficult conversations." As for professional experience, she's a prime example of how that can vary. Beebe was trained as a social worker, became the director of Wellfleet's Council on Aging and served on the Wellfleet Select Board, before becoming Eastham's Assistant Town Administrator. She was chosen for the top job in Eastham six years ago when her mentor and boss, Sheila Vanderhoef, retired.
Her accomplishments have been substantial. As Town Administrator, Beebe helped Eastham complete the purchase of the former T-Time property and create a master plan for the transformation of that 11-acre lot — along with the Town Center Plaza and the current Council on Aging property — into the future North Eastham Village Center. "I heard over and over from Eastham residents that they were sorry we didn't have a Main Street," she says. "So I finally said, 'Well, let's do something about it. Let's try!'"
No one, including Beebe, claims it was easy. "You have to be able to engage in really difficult conversations as a Town Administrator. And when you hear, over and over again, 'We can't do anything about that,' you have to be able to say, 'Why not?'"
Jill Goldsmith describes her role as Chatham's Town Manager as "90 percent behind the scenes, and there's joy in that," she says, "but it can sometimes make my job look too easy." While making sure the town runs well, and paying close attention to the community's wishes and expectations, she keeps "an eye on the big picture so staff can work collaboratively and achieve results."
For the last decade in the manager's job, Goldsmith has witnessed sizable "shifts in attention" in her community. When she started in Chatham, for instance, the focus was mostly on financial nuts and bolts, infrastructure projects such as sewers, and acquiring properties to maintain shoreline access for the public. Now, along with the nuts and bolts, there's a focus on inclusivity — how to serve the whole community by building better social infrastructure and expanding support. In recent years, she has moved quickly on water quality, affordable housing, and climate change, as well as implementing new programs to retain young families in Chatham, like expanded childcare vouchers and the town's Dr. Florence Selden preschool family support program.
Orleans will need to sort out its priorities, too — and will be looking to its new manager for guidance as well as responsiveness. With our town's wish-list loaded with complicated, big-ticket projects — a new fire station, and potentially a new elementary school, library and community center, along with additional phases of the Wastewater Master Plan down the road — our new manager will have to "hit the ground running," Sumner says.

Timing: we could have an announcement of a new hire as soon as late April, in time for Annual Town Meeting on May 8. But it could take longer and, depending on the circumstances, our new Town Manager may not begin for several months. "The point is to get off to a thoughtful, prepared start, not to rush into a decision," says Mike Gradone. "We want to find the right person, even if they can't start right away. "
---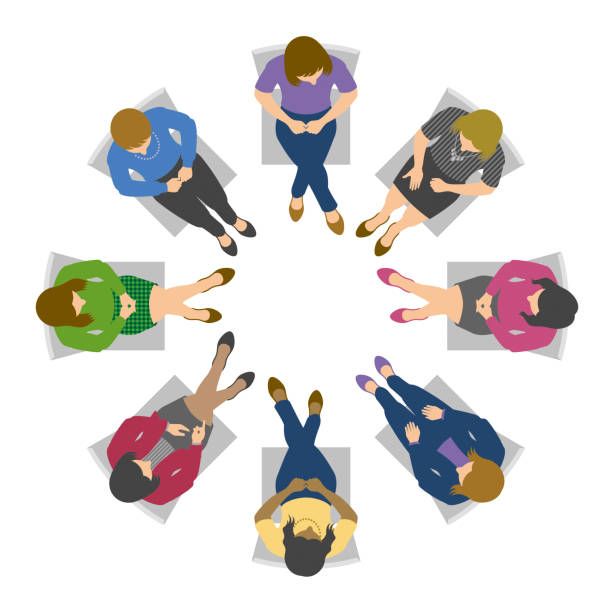 ADVICE — AND SUPPORT
Sure, it can be lonely — and stressful — at the top. But Town Managers in our region need not "walk" alone. For advice, ideas, and moral support, they can tap into an informal group of managers and administrators Bob Lawton started 20 years ago. The Cape Cod Managers Association, made up of town managers and administrators from all 15 Cape towns, meets for lunch in a different town the second Thursday of every month, discussing a different planned topic each time. "So many towns on the Cape are facing the same difficult choices," Lawton says. "The big decisions are hard to face but you have to. That's what the job is about."
Advice for our new Town Manager?
"Your relationship with your Select Board determines your success," Lawton says. "And having a feel for the community — what it wants, and what it supports — is very important."
Sumner agrees. "Success," he says, "will depend largely on the relationship with the Select Board." But "Orleans has a really engaged group of volunteers and leaders. There's a lot going on." Managing the many committees, as well as the relationship between the committees and the Select Board, is a crucial — and complicated — part of the job.
Goldsmith says that "the basics" — preparing the town budget and overseeing day-to-day operations — are often the easiest part of her job. What requires "more finesse" is responsiveness and flexibility. Every day is different. "We have to be able to quickly pivot."
Working with the Select Board to achieve its goals and objectives has become, Goldsmith says, "more complex, requiring multi-layered solutions." Anticipating those goals, and sensing changes in priorities, comes with understanding your community — and fostering a spirit of collaboration and partnership. "A successful manager appreciates and works closely with dedicated Town employees, Town officials, and citizens," she says.
"Volunteers are really the life-blood of our community," Goldsmith says. Across the Cape, committees and boards in each town are populated and run by residents who volunteer their time and expertise. "People really love their towns here, and love the Cape," says Goldsmith. "Community is a focus, something residents really care about — and want to be involved in."
Indeed, for centuries, Orleans citizens have devoted their time to helping the town run. EXIT 89 counted 58 town committees and boards listed on the Town website — all staffed by volunteers.
Want to be more involved? You can start online:
● List of Orleans Boards and Committees
● Information about volunteering
---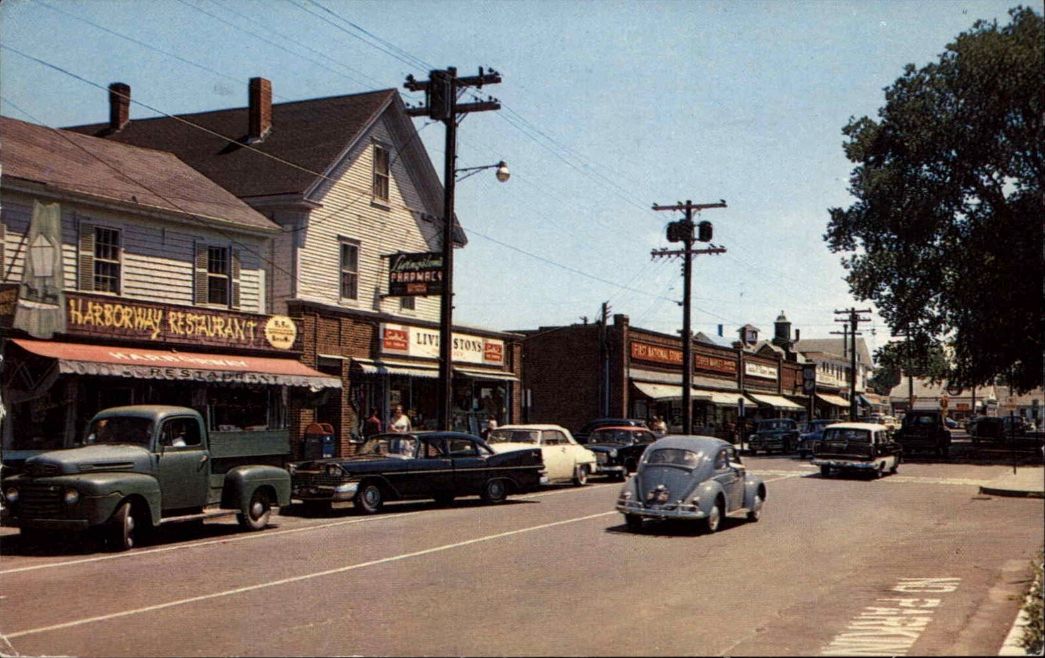 OUR NEXT CHAPTER
Orleans is facing some major challenges — that's hardly news. The housing and climate crises top the list. But what EXIT 89 heard, again and again, in reporting this story is how much Orleans has going for it. We're on extremely solid financial footing. We have great schools, spectacular natural resources, and perhaps most important, an energetic, engaged citizenry — the beating heart of it all.
With the hiring of a new Town Manager, we're entering a new era, the next phase in the evolution of Orleans. We live in a special place, and this moment offers a chance to make it even better — for ourselves, and for generations to come.
---
Special thanks to: Kelly Darling, our Town Clerk, and the Town Archives; Brad Hinote and the Town Assessor's Office; Cathy Doane, the Orleans Finance Director; Interim Town Manager Charles Sumner, Rick White, Mike Gradone, Bob Lawton, Jill Goldsmith and Jacqui Beebe for their invaluable help with this issue.
---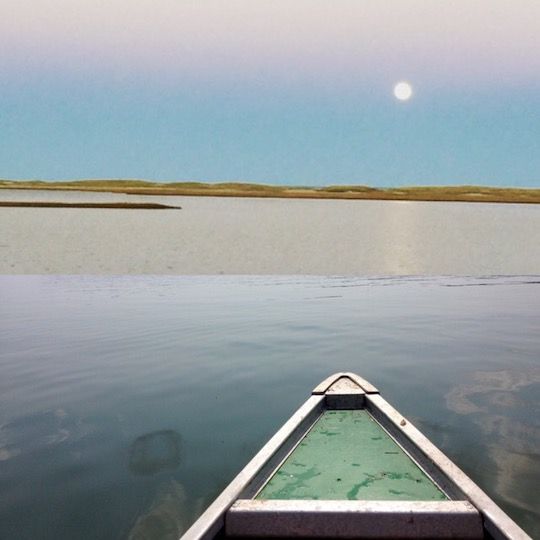 WHAT IS EXIT 89?
EXIT 89 is researched and written by journalists and authors Martha Sherrill and Emily Miller. Editing, tech support and infographics are provided by Kazmira Nedeau. The Advisory Board currently includes Lynn Bruneau and Elaine Baird. We are all residents of Orleans.
We are thrilled to be meeting a need.
If you have thoughts about subjects you'd like to see EXIT 89 cover in the future — Orleans issues that don't make sense to you or seem underreported by the local press — please drop us a line at hello@exit89.org.