Orleans is a wonderful town and a terrific place to raise kids. But it's on an alarming trajectory of becoming a place where school teachers, police officers, restaurant workers, less affluent retirees, and young families cannot afford to live.
Is Orleans willing to stand by and accept this fate?
In this special issue, EXIT 89 explores the Cape's housing crisis as it applies to Orleans. We'll give you the housing stats, explain what the term affordable housing means, describe the different types of subsidized housing that currently exist, and tell you about projects in the works that you'll be asked to vote on soon, at Town Meeting on October 25.
Will building new homes solve the dire "affordability" problem in Orleans — and be enough to keep young families here? No, not entirely. So we'll look beyond housing, at other ways Orleans could ensure that its year-round community can survive.
---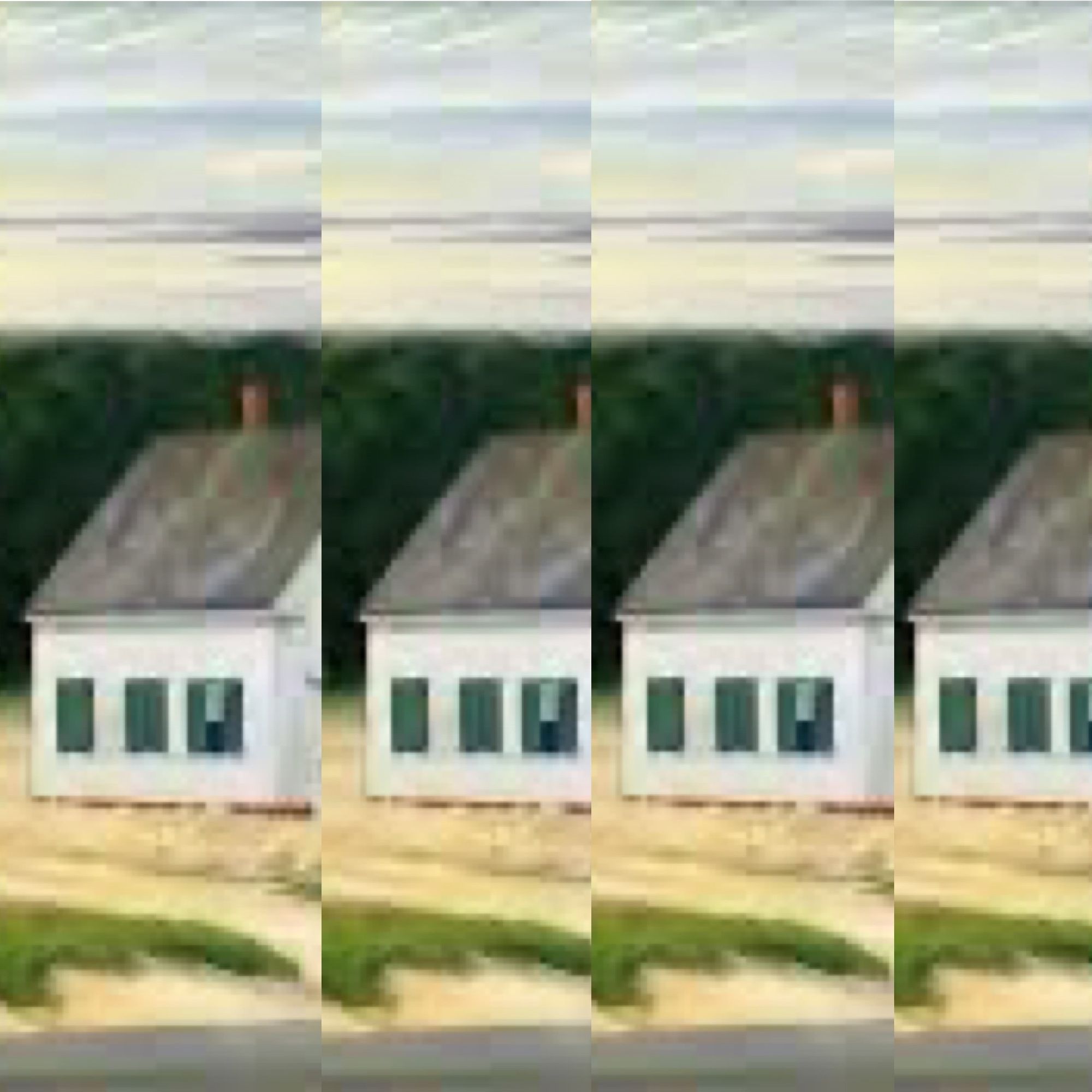 What Do We Mean By Affordable?
Housing is considered "affordable" when you spend 30 percent or less of your income on it. (This is a basic metric used for decades by economists and sociologists.) Spending more than 30 percent of your income on housing typically leaves you "cost-burdened" and can severely impact your life.
Here are a few take-aways from the last major study of housing in Orleans —published in 2017 by the Orleans Affordable Housing Committee. (You can read it here.) The information is four years old, but still paints a relevant and very alarming picture.
Nearly half of Orleans residents earned 80 percent or less of the Area Median Income (AMI) in Barnstable County, and therefore qualified for subsidized housing.
Half of all renting seniors, as well as a significant majority of renters under 62 and renting families (more than 80 percent), were spending more than a third of their income on rent, and were therefore considered "cost-burdened."
Nearly three-quarters of year-round homeowners in Orleans were considered cost-burdened by their housing expenses, which include mortgage payments, mortgage interest, insurance, and property taxes.
Now imagine how these figures may have changed in recent years — in the midst of job losses and economic uncertainty brought on by the pandemic, plus the depletion of rental stock spurred by the recent real estate boom. The number of cost-burdened year-round residents is likely to have grown, while the housing supply –– in particular, homes middle and lower income residents can afford –– has dwindled. The news headlines of the summer: Cape Cod is in the midst of a housing crisis.
Affordable means one thing when it refers to the cost burdens of an individual's or a family's life. But the term "affordable housing," in the context of town-planning, refers specifically to housing that is subsidized (by town, state or federal government) in order to make it affordable for people who can't pay market rates — individuals or families making 80% or less of the AMI.  (In Barnstable County, AMI was $62,000 for a two-person household in 2020.) The deeds to these properties are restricted, meaning there are permanent conditions for how the property can be used or resold.
How much affordable housing is enough? The amount of affordable housing a town needs depends on its unique economic landscape — and its commitment to families and workers. Under the regional planning law adopted by Massachusetts in 1969, referred to as Chapter 40B, the suggested goal for all Massachusetts towns is that a minimum of 10 percent of housing be officially "affordable" –– a figure most agree is woefully inadequate, considering the vast need.
Currently, Orleans stands at 9 percent — with 307 state-approved affordable housing units at the time of the housing study. These were homes at Tonset Woods, John Avellar Circle, Windmill Village, and Rock Harbor Village. Some of these were specifically built and funded for residents recovering from addiction, residents with mental disabilities, or elderly and retired residents. John Avellar Circle, with 10 units, is the only development in Orleans created specifically for families.
Orleans also has a number of individual family homes built through Habitat for Humanity, but the wait times for Habitat homes have always been long. In 2021, with the pandemic-driven housing crisis, availability essentially disappeared.
---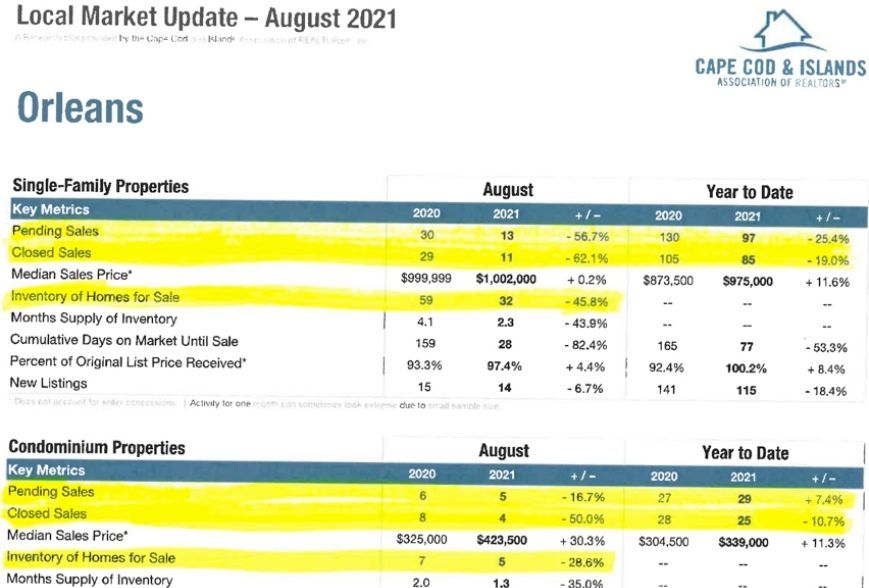 How Did We Get Here?
Gradually, and then suddenly.
The Cape's housing crisis has been long in the making. At a public hearing about the soon-to-be-purchased Governor Prence properties on August 4th, Affordable Housing Trust Fund board member Mike Herman cited a Cape Codder article from 1984 describing difficult conditions in which "the young and elderly cannot find housing in Orleans."
It's only gotten worse. In Orleans, like many other towns with seasonal economies, real estate prices increasingly reflect the second-home market, while rental prices are driven up by the lucrative vacation-rental market. Meanwhile, the local economy is largely service industry, blue-collar, and seasonal. All of this creates a situation where, when it comes to housing, locals get squeezed out.
Historic preservation, ecological concerns, and nostalgia for a rural "seaside village" setting have also complicated the problem, keeping many towns from making large-scale, systemic changes like adding water treatment facilities or allowing higher population density construction. In Orleans, the lack of sewers, along with other zoning decisions over time, have strangled economic growth and made higher-density housing, especially outside of the downtown area, nearly impossible. Minimum lot size requirements are also an issue: the 40,000-square foot requirement for most residential parcels in Orleans may be a boon for environmental conservation and rural character, but it keeps the population density low and real-estate prices high.
Last year, fueled by the influx of pandemic refugees, the housing market officially went nuts. And, of this month in Orleans, 92 single family homes have sold in 2021, with the median sales price of $917,500, according to Brad Hinote, Town Assessor. (The Cape Cod and Islands Association of Realtors puts the year's median price even higher, at $975,000.) Either way, that's high!
Homes that were formerly attainable for individuals and families living on a median income no longer are. Overall, the median sales price of a home on Cape Cod rose by 45% in the past year, according to the Cape Cod Times, to $625,000 in April 2021. In 2020, only 162 homes sold at less than $500,000. This year, only 82 houses under $500,000 have sold so far.
Landlords, understandably, are getting in on the action, selling long-term rentals or converting them to more profitable vacation rentals. As Alisa Magnotta of the Housing Assistance Corporation (HAC) pointed out at a Governor Prence meeting last month, it is the year-round community in Orleans that suffers the most.
"It's people making $15, $20, $25 an hour and they can't afford to live here," Magnotta said. "It's people on disability or seniors living on fixed incomes." It's these folks –– our parents, our neighbors, our friends –– who need housing help now.
Hadley Luddy, CEO of the Homeless Prevention Council (HPC), a nonprofit based in Orleans that serves the Lower and Outer Cape, reports that her organization saw an alarming uptick in new clients in 2020. In the first quarter of 2021 alone, HPC served 48 households, more than half of the total for all of 2020 — a 65 percent rise, according to The Cape Cod Chronicle. The HPC also saw a new demographic: long-term, year-round residents who are financially stable, with solid employment, and can't find anywhere to live.
---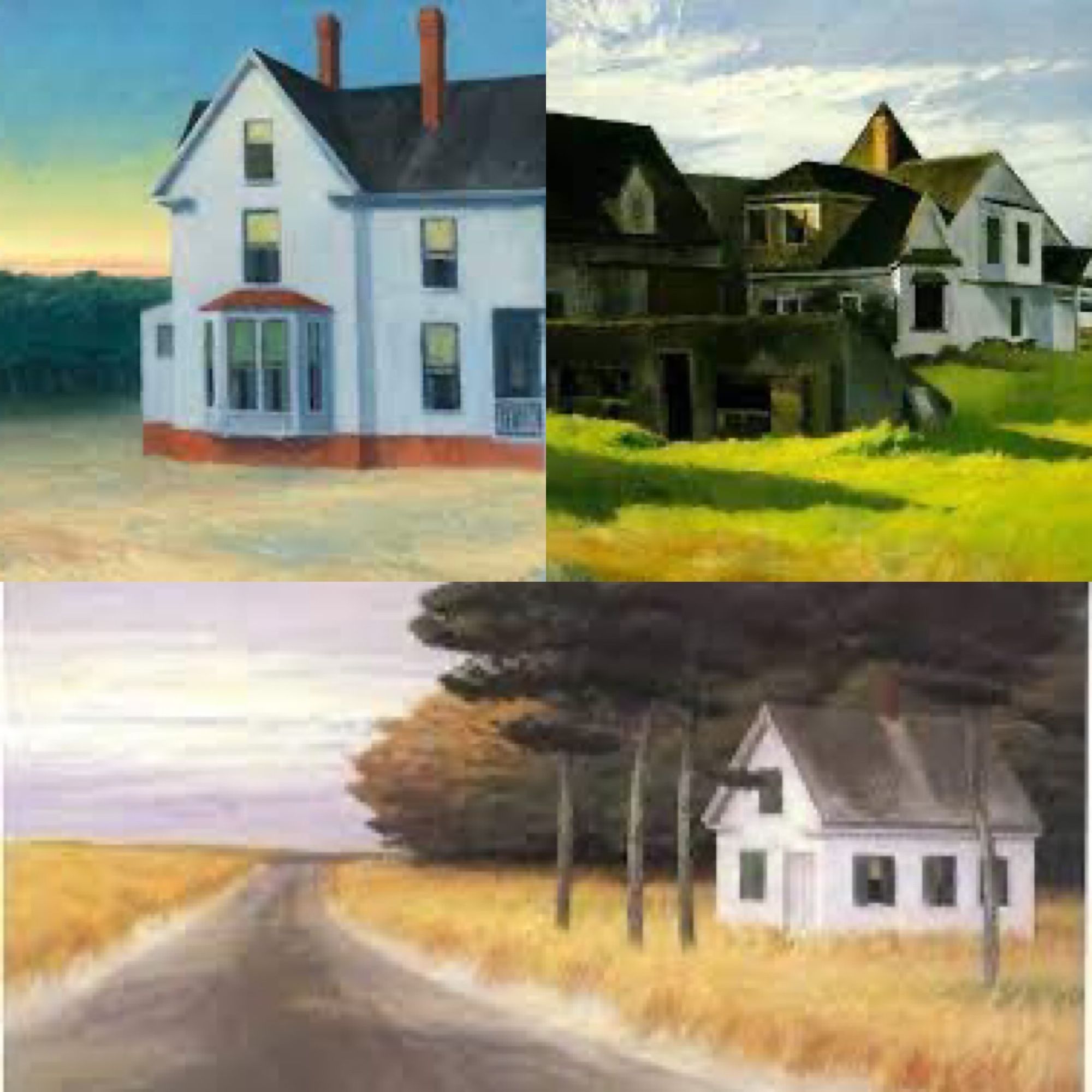 How Does It Look?
Affordable housing comes in many shapes and sizes — from apartment and townhouses to single-family homes and converted barns. Multi-unit developments account for the largest percentage of the state's affordable housing inventory. The size and design of multi-unit developments varies, but they are usually a mix of single- and multi-family units, and not all the units are subsidized. The exact percentage of units designated as "affordable" is determined by several factors, including the property's features and size, the size and make-up of the units, and the community's needs. Affordable housing developments can also include other benefits for residents, such as childcare facilities or gyms.
Affordable housing developers can be either for-profit or nonprofit entities, and they usually specialize in the field. This is important, because larger projects can be highly complex and require many stages of town and state approval. In its comprehensive series, "The Housing Challenge," the Provincetown Independent explains how these projects can be relatively affordable for towns. (The Independent's articles, "Who Builds Affordable Housing Here?" and "Outer Cape Projects Attract Mostly Off-Cape Developers" offer a comprehensive look at who builds housing developments on the Cape, and how.)
Developers work with state financial partners and local nonprofits, such as HAC and Community Development Partnership (CDP), that collaborate on plans and proposals to help tailor projects to local needs. HAC is currently the largest developer of affordable housing on Cape Cod and the Islands, with over 550 units constructed and another 120 units in development.
Historically, Orleans and other Cape towns have resisted larger-scale developments. "Local opposition to affordable housing is more the norm than the exception in most communities," according to the executive summary of the 2017 Study, "as most residents, particularly abutters, generally prefer the status quo to the uncertain implications of new development." Negative stereotypes, along with general misperceptions around housing insecurity, can shape public attitudes toward multi-unit housing. A recent piece in the Cape Cod Times explored the possible benefits of –– and resistance to –– larger housing developments on the Cape.
Subsidized single-family homes, such as the ones built by Habitat for Humanity, can also count as affordable housing in our town's inventory. Habitat homes are for people with serious housing needs who partner with the organization to build the house. (You can find more information on Habitat for Humanity Cape Cod, including eligibility and their process, here.)
Accessory/Auxiliary Dwelling Units (ADU's) can also meet the state's definition of "affordable housing." These are small (up to 800 square feet in Orleans) habitable units, either attached or free-standing, on the same property as a larger single-family home. In hopes of encouraging more low-cost, year-round ADU rentals, some Cape towns prohibit owners from renting their ADU's to vacationers by requiring longer leases. Orleans previously required year-long leases, but recently changed the minimum to three months.
---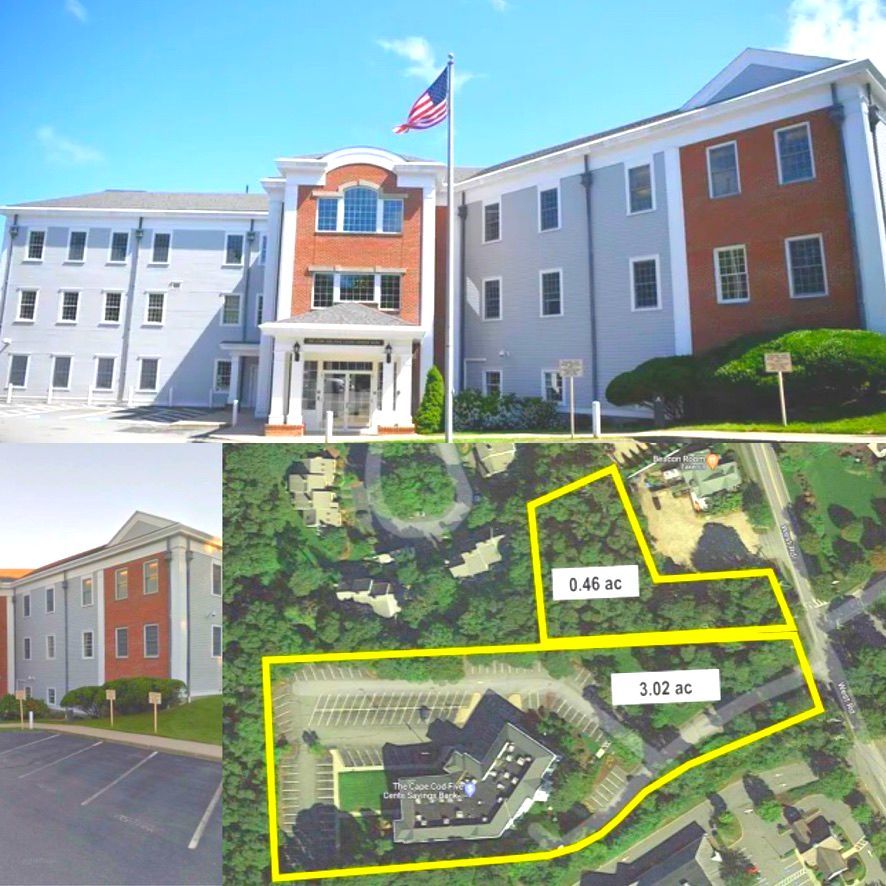 What's in the Pipeline?
The Orleans Affordable Housing Trust Board and Affordable Housing Committee set a goal in 2019 to create 100 affordable units in 10 years. After 2 1/2 years, with the support of the Select Board and articles that passed at Town Meeting, there are 77 units in the pipeline or completed. Projects underway or under discussion include:
The former Cape Cod Five Operations Center on West Road, (pictured above) currently being developed by Pennrose LLC. At Town Meeting in May, this project moved forward another step with a two-thirds majority vote to approve the creation of 62 units, with a town contribution of $2 million, fueled by a Community Preservation Committee bond. Fifty-two of the units will be reserved solely for people making under 80 percent AMI. Pennrose still needs approval by the Massachusetts Department of Housing and Community Development and an award of low-income housing tax credit funds to move forward again. The project will be a mix of 1- and 2-bedroom units, as well as two townhouse style buildings with one 2-bedroom, 3-bedroom and 4-bedroom unit each.  Preference will be given to Orleans residents, those who work in Orleans, and families whose children attend Orleans schools. Construction has not yet started.
107 Main Street in Orleans, a former Masonic Lodge, is less of a sure thing. While the Affordable Housing Trust Board reviewed a proposal for the property from HAC in July — for 14 units, a mix of 1-, 2-, and 3-bedroom units — the development has hit some shoals. The Community Preservation Committee (CPC) voted 4-3 at a recent meeting not to endorse a $1 million bond for the project. The HAC, Affordable Housing Trust, Affordable Committee, and Orleans Select Board all support it. The Cape Cod Chronicle details the arguments made for and against the project in its Sept. 23 issue.
Potential projects for the future include:
The Governor Prence Properties. The two parcels totaling five acres were approved for purchase at Town Meeting in May, described at the time as a centrally-located property that was in the best interest of Orleans to control, in terms of development or resale. The conversation around its future is focused almost exclusively on affordable housing now. A Governor Prence Planning Committee has been tasked with creating a project timeline and hiring a consultant, if the $75,000 for consulting fees is approved at Town Meeting on Oct. 25.
The Underground Mall. Very recently, the 6A property was sold to Orleans Plaza LLC, managed by Chris DeSisto. DeSisto is president of Maple Hurst Builders, a Boston-based construction company that specializes in the redevelopment of under-utilized urban properties. In an interview with the Cape Cod Chronicle, DeSisto described a plan to build "workforce housing" at the empty Underground Mall space as "modestly priced but market rate apartments," but not a 40B or "affordable housing" development by the state's definition. Nothing has been formally proposed, planned, or permitted yet.
All of these projects are long-term — two to three years out at least — but the need is urgent. According to HPC's Luddy, there are essentially no available options for people whose rental leases have not been renewed, and who find themselves homeless, unless Orleans residents can be convinced to rent out their accessory dwelling units or vacation homes at affordable rates.
If you're a homeowner interested in renting long-term, HPC or HAC can help connect you with potential renters and walk you through the process. For landlords looking to rent at affordable rates, the U.S Department of Housing and the Massachusetts emergency housing assistance program are both offering financial incentives as part of pandemic relief.
---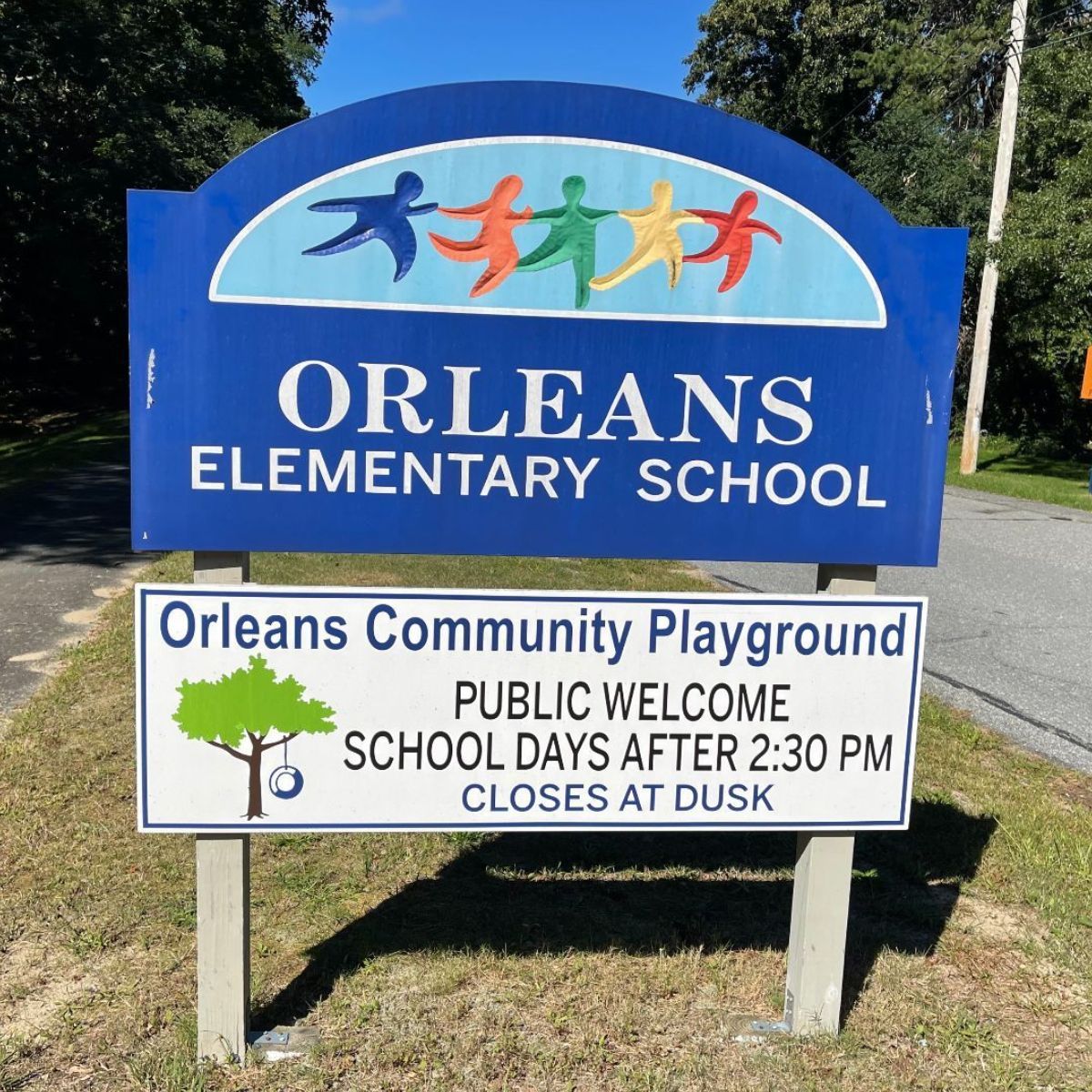 Making Orleans Affordable for Young Families
Orleans has so much to offer year-round working families. Stellar public schools make the town one of the most desirable in the region, and both Orleans Elementary and Nauset Regional Middle School currently offer free breakfast and lunch to all students. Thanks to a partnership with Food4Kids, a regional nonprofit, free meals are available all summer, too.
The Orleans After School Activities Program, or OASAP, provides safe, creative, and affordable childcare for the children (5-14 years old) of working parents –– though demand consistently exceeds available spots. The Orleans Recreation Department also offers a variety of youth sports programs, swimming lessons in the summer, and various classes and activities for children and adults year-round at very low cost. (Many parents, desperate for affordable childcare — another hardship for local families — would like to see these programs expand.)
These programs can help attract families and encourage community involvement. But if Orleans wants to be a vibrant, multi-generational community, it clearly needs to do more.
Some neighboring towns already have their eye on this ball. Eastham has pre-K subsidies, provides free school lunch to all Eastham children, and is setting aside extra funding for its elementary school's after-school program and the Food4Kids program. The Eastham Town Administrator, Jacqueline Beebe, is working with town government to revamp Eastham's recently-purchased Town Center Plaza, so it can include more recreation space, housing, commercial space, a community center, and possibly a much-desired swimming pool.
Wellfleet has preschool vouchers for three- and four-year-olds. Truro is expanding its free preschool program to accommodate all three- and four-year-olds, and Provincetown, a step ahead, has offered free childcare and preschool for all infants, toddlers, and three- and four-year-olds since 2018.
Orleans could be expanding its offerings, too. The Orleans School Committee recently brought forward a proposal for $495,000 in pre-K assistance for families for approval at the Special Town Meeting next month. The measure would provide up to $10,000 per year in pre-K funding for an Orleans 4-year old, and up to $5,000 per year for a 3-year old. Children could attend a qualified pre-K program anywhere on the Cape. (If you think Orleans should move forward on this — or you don't — make sure you come to Town Meeting and VOTE!)
And an Orleans Community Center, dismissed not long ago as a pipe dream, now has an approved feasibility study and a task force, which will determine the current needs of Orleans, what a community center could offer, and what kind of space it would require (you can read the Task Force's charge here). They will present the Select Board with a conceptual design by March 2022.
Other support is closer at hand, including cash. As part of the American Rescue Plan, the federal government just released the second round of monthly child tax credits for eligible American families, which include $300 per month for children under 6 and $250 per month for children from 6-17. While this is a federal initiative, Orleans could encourage local families to apply for this tax credit and other state and federal programs that provide a similar type of assistance. The Massachusetts Department of Housing and Community Development is also offering emergency rent and mortgage assistance as part of a pandemic relief effort.
Other local initiatives, like the new program that allows eligible seniors to volunteer in exchange for property tax reductions — formally referred to as "MGL. Ch. 59," and which was passed at Town Meeting in May — are important steps that the town could continue to support, or expand.
---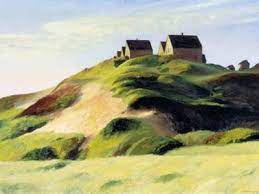 Without strong leadership and broad community support, none of these efforts on behalf of the year-round population in Orleans will become realities. As our town faces the future, with so many changes and decisions ahead of us, we need to keep our goals and priorities in mind.
What matters most?
The Select Board recently ranked its goals for the next fiscal year, 2022. While lots of time has been spent talking about affordable housing in recent years, notably, it wasn't ranked as a top FY '22 priority by many Board Members. Instead, top priorities for the four members who participated include: managing COVID, reducing the town's carbon footprint, overseeing the town's Comprehensive Wastewater Management Plan, and "compliance/enforcement with town's regulations, including but not limited to: signs, zoning, parking, animal control, noise, lighting & construction. Further, encourage and provide resources for traffic calming measures."
What are your priorities?
If affordable housing — and affordable living — ranks high on your list, let the Orleans Select Board know. Sit in on a meeting of the Affordable Housing Committee or the Affordable Housing Trust Board. Better yet, join a town committee. Most of all, make it a priority to come to Town Meeting on Monday, October 25th at 6 pm in the Nauset Middle School Auditorium.
Let your voice be heard!
---
This edition of EXIT 89 was researched and written by our summer intern Hanna Sweeney, along with journalists and authors Martha Sherrill and Emily Miller. Editing and tech support is provided by Kazmira Nedeau. The Advisory Board currently includes Lynn Bruneau and Elaine Baird. We are all residents of Orleans.
Learn more about EXIT 89.