All four towns in the Nauset School District will vote separately tomorrow on whether or not to proceed with the high school renovation project, given the $38.1 million cost increase. Orleans voters will be asked to approve a debt exclusion for its share of this amount. Voting takes place at the Council on Aging Senior Center, 150 Rock Harbor Road, from 11 AM to 7 PM.
Need a refresher on what's at stake?
Keep reading.
---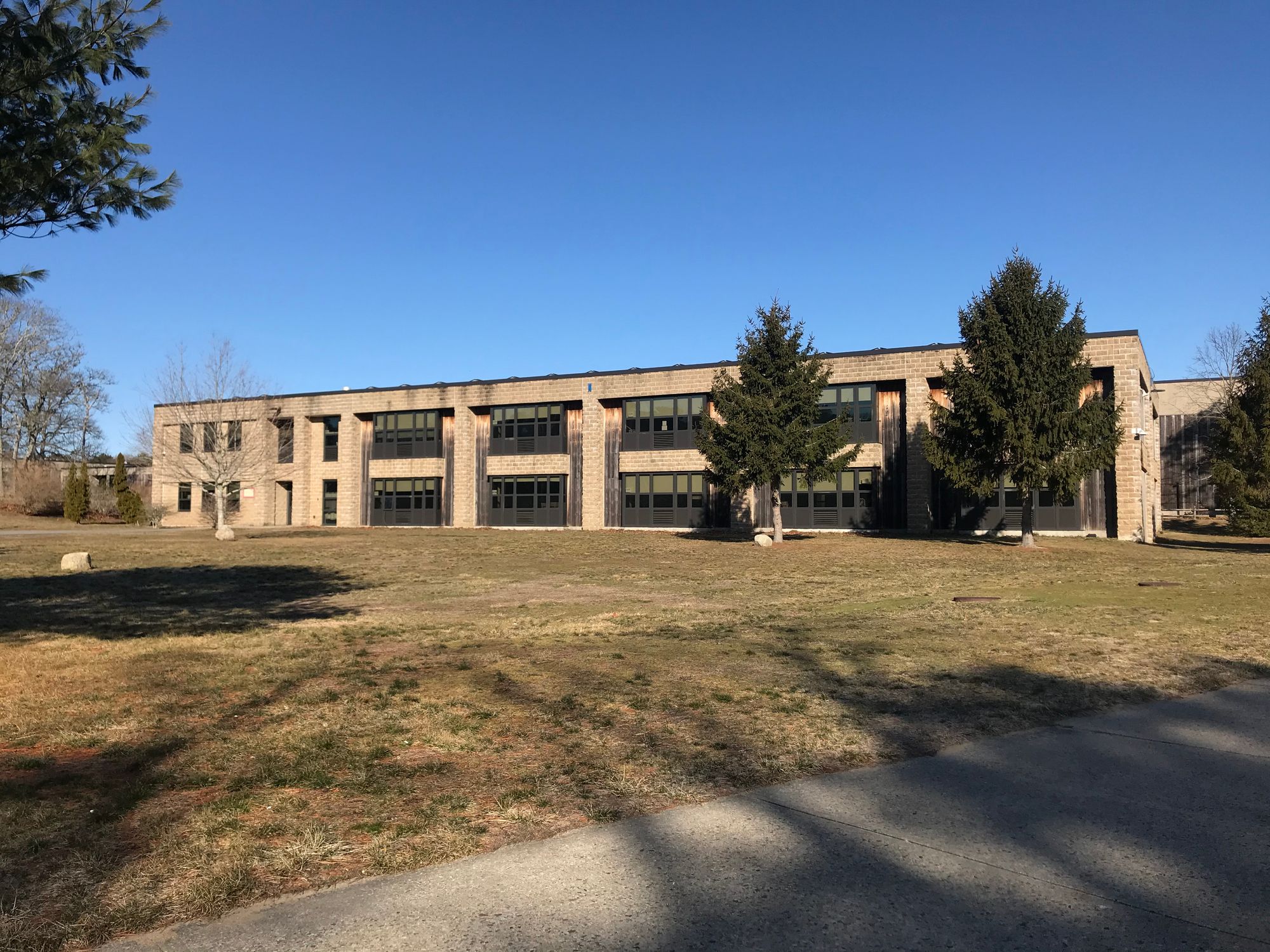 The Nauset Regional High School building project — approved by a district-wide vote in March, 2021 —  is underway. The planned modular classrooms should be ready for occupancy in early 2023.  But like many things in the current economic climate, the project's price tag has gotten bigger — $38.1 million bigger — and the main construction project is currently on hold, pending a district-wide vote tomorrow.
Representatives from the Nauset Regional School Committee made a presentation at a joint meeting of the Orleans Select Board and Finance Committee on  December 14 to explain the key components of the increase. For a concise breakdown, click here.
How would this increase impact Orleans property owners?
For a 25-year bond at 4.5 percent interest, it would mean an additional $40.38 for every $100,000 of home value, per year, through 2049.
Proponents of continuing with the project say that while paying more is not anyone's ideal scenario, we need to follow through with what we started, and that the completed facility will be a major asset to all the towns in the District, possibly drawing young families to the region. And, they say, a state-of-the-art campus could serve many purposes — a joint middle and high school, an extension campus for Cape Cod Tech or Cape Cod Community College, adult or continuing education, and performance space for arts and cultural events, to name a few.

Those against proceeding with construction argue that the project is too big, considering the District's declining enrollment, and that a pause should be taken to figure out how to reduce its size and cost.

According to a public letter from Nauset District Superintendent Brooke Clenchy, the District has reached out to multiple legislators requesting relief, in light of the increase. "We are not the only school district in Massachusetts that is experiencing this," Clenchy continues. "These are challenging times, and we recognize that."
For more information about the stakes of the outcome, keep reading . . .
---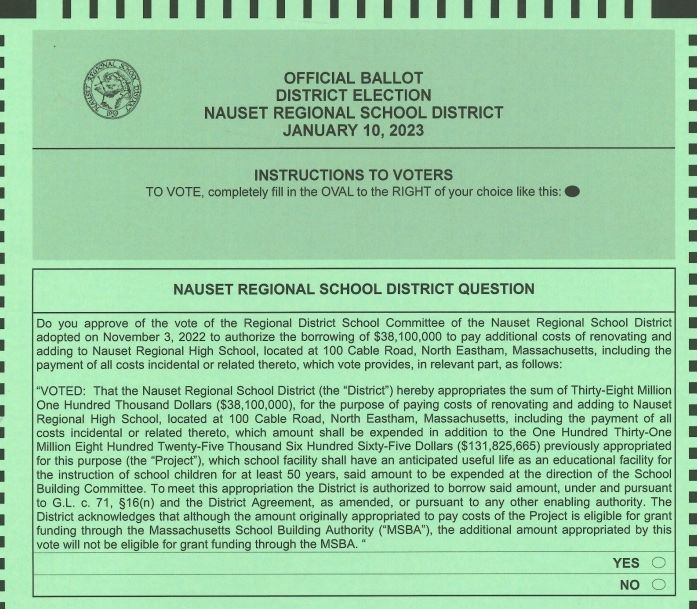 There are two ballot questions. The first question, shown in the sample ballot above, will ask voters across all four towns in the Nauset School District whether to move ahead with the project. A District-wide simple majority is needed to pass.

If Question #1 passes:

— The project continues as scheduled, with only a slight initial delay.

— The project is expected to meet its original completion date of April 2025.

— The Nauset School District will have a complete, state-of-the-art facility, designed to last 50 years or more.
If Question #1 fails:

— All work on the NRHS Building Project would cease.

— The School District would lose the $36.6 million currently pledged from the Mass School Board Authority – and go to the back of the queue for funding consideration for any future project.

— $24-28 million has already been spent; the Nauset School District will need to issue a bond to cover this debt, and would assess the District towns annually for payment.

— Building plans would start over again, estimated to take 5-10 years, putting off the completion of a new building or a renovation of the existing building to at least 2030-2035.  

— Throughout these years, the aging high school and the mobile classrooms would continue to require maintenance.
---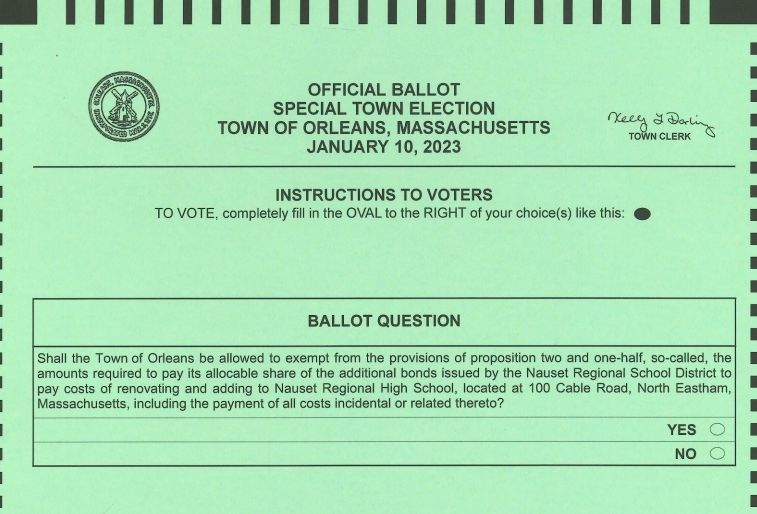 The second question on the Orleans ballot is specifically for Orleans voters, asking us to approve a debt exclusion for our share of the cost increase. If this measure fails, the increase will have to be paid from the Town Operating Budget. Each of the District towns will have their own version of this second ballot question.
Still want more info?  
+ Read EXIT 89's deep dive on the project here.
+ Find a list of FAQs and answers about the project here.
---
Please share this issue of EXIT 89 on Facebook, Instagram, NextDoor, or by email — and make sure your friends and neighbors in Orleans know about this consequential vote.

See you at the polls!

---