Voters in Orleans will be asked to vote on a renovation and partial rebuilding plan for Nauset Regional High School in a special ballot election on March 30.

Orleans is one of four towns (along with Brewster, Eastham and Wellfleet) in the Nauset School District and will therefore participate in the district-wide vote. A simple majority is needed for the project to pass.

Is the project a good thing for Orleans?

EXIT 89 looks at the arguments being made, pro and con. We will show you how the price tag will impact your property taxes. And we will explore the important question: What happens if the vote fails?
---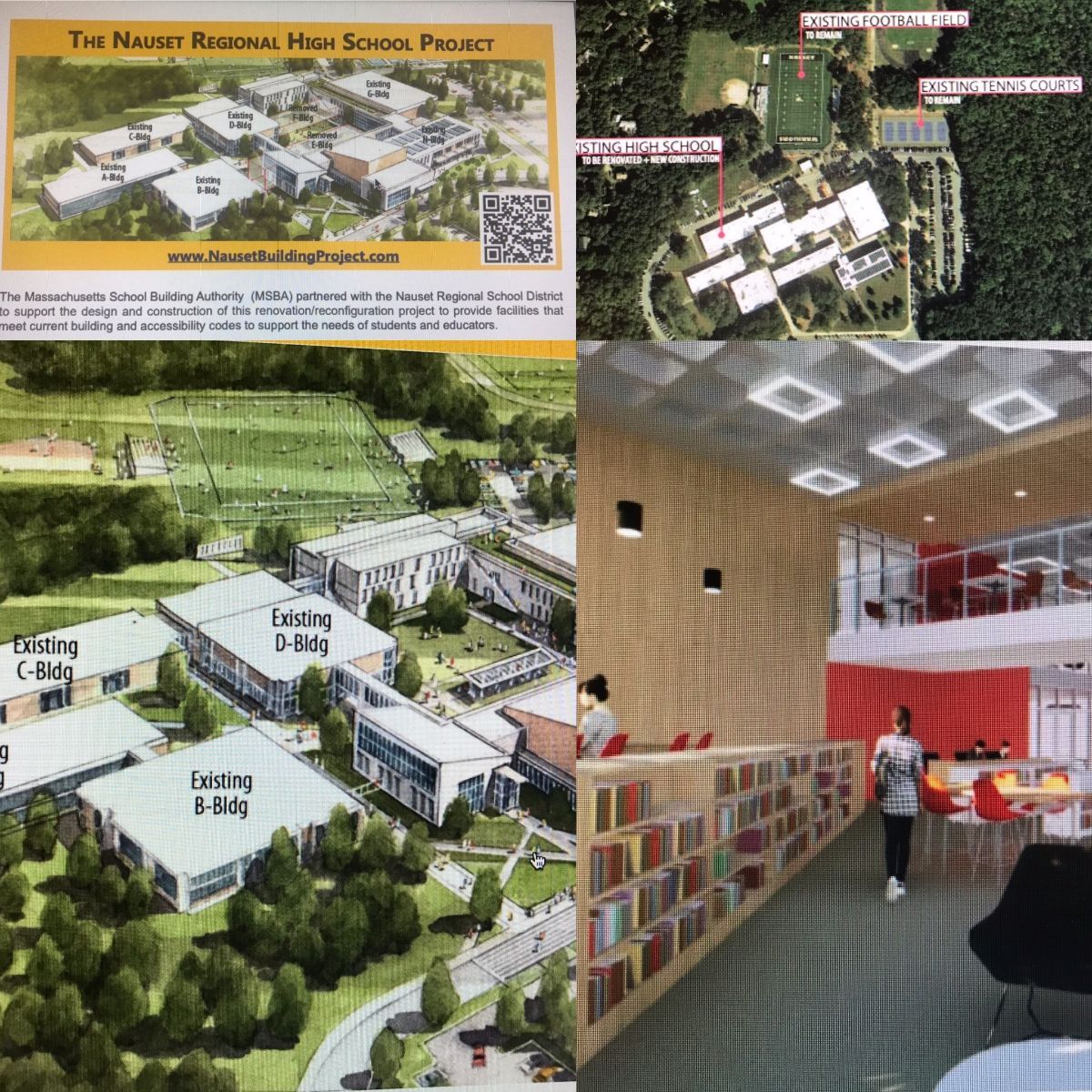 Nauset: Past, Present, and Future?
Nauset Regional High School is a jewel of the Outer Cape, widely regarded as the best public high school on Cape Cod. School pride is backed up by rankings. Academically, it is rated #24 in Massachusetts — the state with the second-highest education rating in the country for Pre-K through 12 — due in large part to an extensive menu of Advance Placement (AP) classes and an extraordinary AP participation rate of 64 percent. Fifty-eight percent of Nauset graduates attend college, many highly competitive and Ivy League. Students who don't plan to go to college receive a top-notch education as well. The school is renowned for its wide range of terrific programs, too, including State-champ sports teams, performing arts, culinary arts, woodworking, metalworking, jewelry-making and ceramics, to name just a few.

School Design: Built in 1972, the high school is a series of eight modern, low-slung, glass and wood buildings set in a pitch pine and oak landscape just two miles from Coast Guard Beach in Eastham.

Claim to Fame: Only U.S. public high school located inside a National Park.
                     
Current Condition: Dire. The school is in urgent need of repairs and upgrades. It does not meet either current educational or state building codes (the rules for school buildings now require larger classrooms — more square feet per student — as well as larger labs, larger gymnasiums, larger and more bathrooms among other things). Serious structural problems have plagued the school for years, including crumbling stairways, rusty water in the showers, leaky ceilings, outdated heating and cooling systems, too few bathrooms, a too-small lunch room, insufficient storage areas, and, perhaps most troubling in the era of COVID, inadequate ventilation — most noticeably in the gym, cafeteria, and science labs. Many classrooms have no windows at all.

Lastly, security issues abound. Lockers are too remotely located to be monitored by school authorities for drugs and alcohol. Access to the campus cannot be controlled, a concern in the age of school shootings and lockdowns.

Proposal: Over the last five years, a team of district volunteers, employees, and school committee leaders has met with architects, engineers, and planners — more than 100 meetings, an estimate of 3,500 individual hours — to devise and evaluate 11 possible plans for dealing with the school's poor condition. A record of these meetings, along with timelines and flowcharts, can be found on the Nauset Building Project website.

Options ranged from total demolition and the creation of a brand new school (at a cost of $161 million) to the current proposal for a mix of rebuilding and renovation that the building committee says will meet the educational needs of the district at the lowest net cost to the taxpayers ($132 million before state funding came through). The proposed plan will result in a state-of-the-art facility with capacity for 900 students, about twenty more students than attending now. Architectural plans can be found here.

Each step of this process was guided by the Massachusetts School Building Authority (MSBA), which has approved all aspects of the proposed design and awarded a grant of $36.6 million to the Nauset School District for the project. Only 15% of applications for MSBA funds are successful. Due to this subsidy, the estimated cost of the project to the four towns in the district is now $95 million.

The Orleans share, determined by the percentage of students we send to the school — currently 19.52% — will be roughly $18.6 million. No sooner than 2023, this would raise annual property taxes on a median home value (assessed at $745,000) by about $247.96 in the first year and drop a bit each subsequent year.

The Orleans Select Board voted unanimously in favor of the plan (4-0). Our Finance Committee voted to endorse, but was split on its decision (4-3-1). Both committees in Eastham and Wellfleet voted unanimously in favor. In Brewster, where enrollment in the high school is much greater (48.04%), resulting in a far heavier financial burden to the town ($45.7 million), the votes were divided:  the Select Board voted in favor of the proposal (4-1) while the Finance Committee voted (5-3) against.
---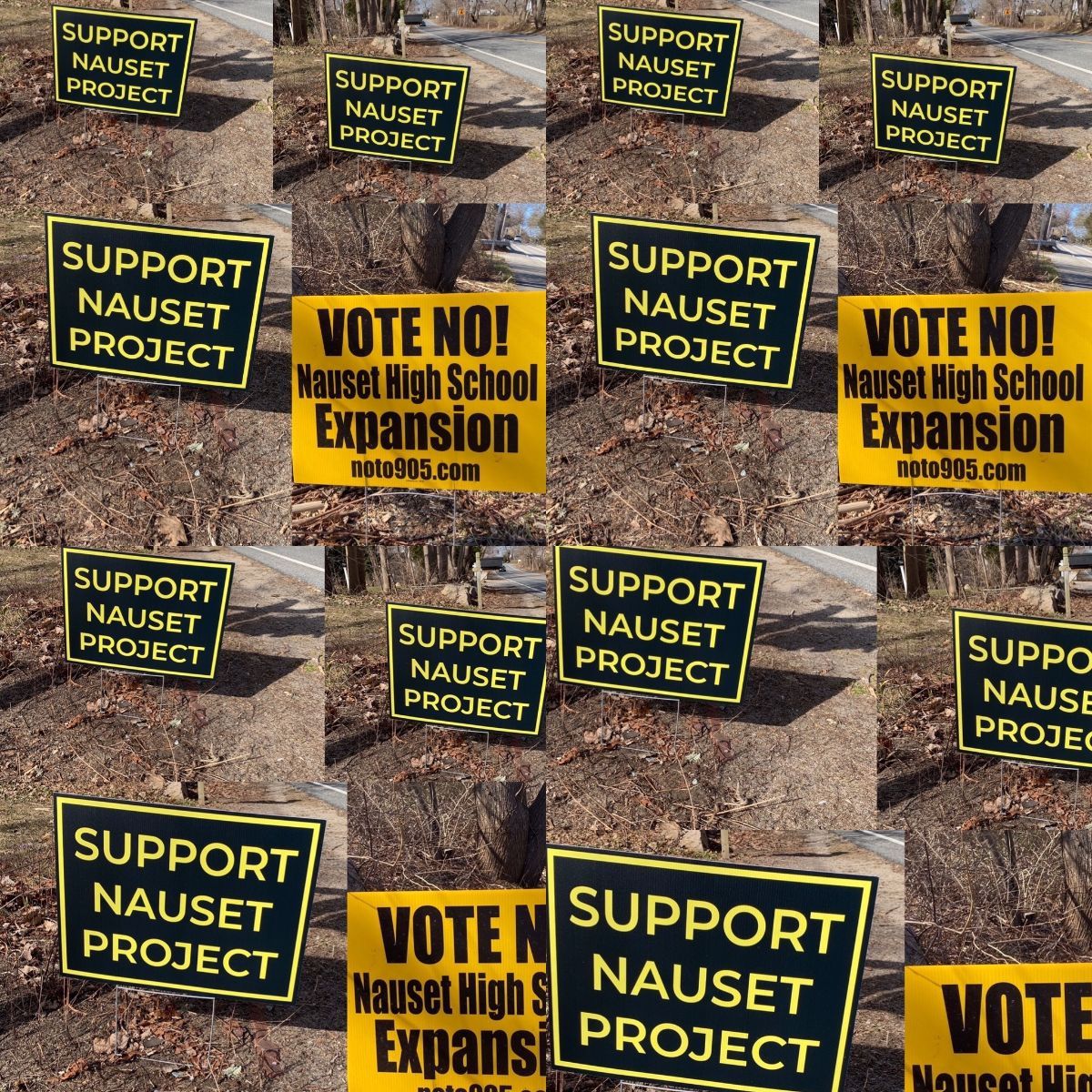 What Are People Saying?
Major civic projects don't come without tax increases, and tax increases rarely come without pain. Much of the debate about the Nauset Building Project focuses, not surprisingly, on its cost.

Proponents of the plan in Orleans may not be thrilled to see their taxes rise, even by $200 a year, but they argue that an award-winning school district needs to be supported and maintained. Nauset High was built fifty years ago, at great sacrifice to a smaller and leaner year-round population, and has been famously excellent for decades. Excellent schools support property values. Excellent schools attract families with kids. Excellent schools attract better teachers. School pride generates optimism and opportunity.

Many proponents who went to Nauset High — or have kids or grandkids who went there — feel a sense of gratitude. They consider themselves custodians of a legacy. This is payback, or paying it forward. They don't believe the size of the proposed school is a problem. Many believe School Choice — the program that allows students from Cape towns outside the school district to attend Nauset High — is a good thing. (Keep reading for more on this.) Others who find problems with School Choice don't feel it is an appropriate time to debate the merits of the program.

Proponents argue that Nauset High is falling apart, and — however you slice or dice the figures and estimates — we have a plan, we have a significant state grant, and the property tax rate in Orleans is currently lower than rates in 10 of the other 15 towns on the Cape. The new high school would be a boon and bargain. What's not to like?

Opponents of the plan find many things not to like. They do not deny that the school is in sad shape. But some haven't trusted the process that produced the plan. Some don't trust the committees involved, or specific members, and they definitely don't like the price tag.

Many argue that the proposed school is too large. Why does it have to be so big? Enrollment for schools on the Outer Cape has been dropping slowly and steadily (1% per year on average) and detractors don't believe we need a regional high school for 900 kids. A school for 600 or 700 should be adequate, they say. Some would like the School Choice program to be abolished, or reconsidered, maintaining that it places an undue burden on taxpayers inside the school district.

Opponents describe two hypothetical alternatives — 1) repair the current buildings as-needed, or, 2) plan and build a smaller school, presumably at a lower cost.

Would a smaller school be a better option?

To understand the thinking behind the size of the proposed school, it's important to understand the role School Choice plays in the current debate. Let's take a look.
---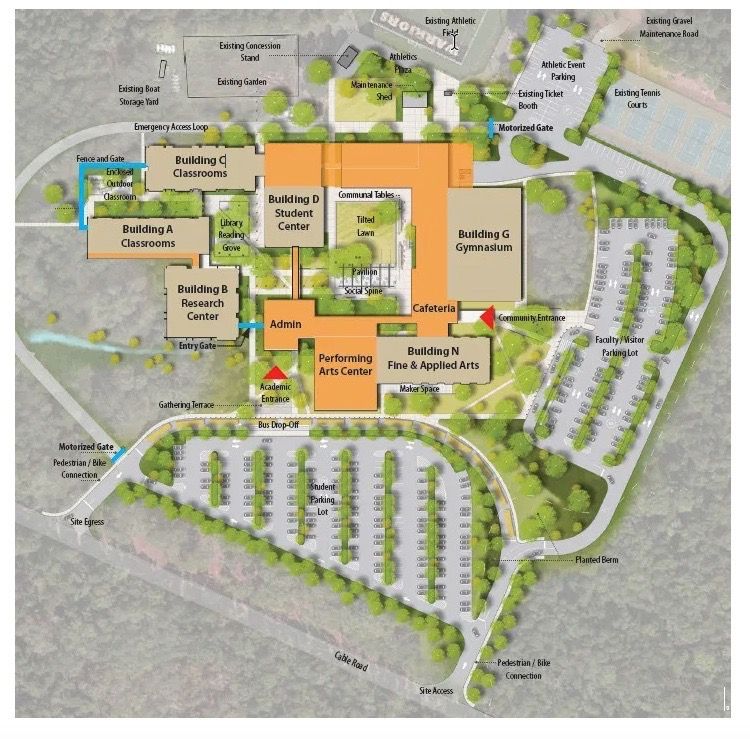 The Role of School Choice
An assumption was made during the design process.

That assumption: Nauset High would continue its School Choice program. Since School Choice was first offered in 1997, as many as 200 kids from other Cape towns have been drawn to the high school each year for Nauset's academic rigor, wide variety of programs, college admission record, and competitive sports teams.

As enrollment has fluctuated, School Choice has kept the classrooms full, the faculty engaged, and the sports teams playing. In 2013, enrollment at Nauset High was 1,024 students. In 2020, there were 877 students, including 198 from outside the district, bringing in $1.74 million in revenue due to a payment system mandated by the state.

In the view of some, this is wrong-headed. They believe School Choice is a rip-off for our school district. It doesn't make sense to them that Truro and Provincetown pay full-tuition for their out-of-district students to attend Nauset — or $18,000 per student — while other Cape towns pay only $5,000-$6,000 per student. These out-of-district payments, they say, do not come close to covering the actual costs per student. They'd like to see School Choice ended, or see local officials lobby the state to have it revamped.

Defenders of School Choice offer their arguments: adding more students isn't expensive at all, since most of the school's costs are fixed. And more students, and more diversity, make the school richer, improve class vibrancy, expand academic offerings, and ensure better sports teams. All things that make Nauset great. School Choice is not on the ballot on March 30th, they say. The Nauset School Building Project is. A vote in favor of the plan is not necessarily a vote for continuing School Choice in perpetuity. It is a vote for a state-approved and state-subsidized plan for a new regional high school.

The problem with this debate:  There are no firm numbers. There is no consensus on how much the School Choice program costs or earns the district. The state of Massachusetts sets the per-student tuition prices. All of the traditional public high schools on Cape Cod participate in this program, but its existence has become a minefield in the Nauset Building Project conversation.

Other assumptions: Those in favor of a hypothetical, smaller school assume that the Cape's population will continue to decrease in coming years, based on data from the past two decades. In 2020, though, everything changed. Along with the rest of the planet, we were thrown a serious curveball. Many experts expect that as a result of the pandemic, demographics will shift.

School enrollment could easily begin expanding, instead of contracting. In the last year, pandemic refugees from urban areas have swelled the winter population in Orleans and the Cape has seen record-breaking increase in home sales. Not all of the pandemic refugees will leave. According to a recent McKinsey study, 40% of the current workforce is likely to remain remote. If this trend continues, as expected, and brings more year-round families, the proposed high school could be just the right size.
---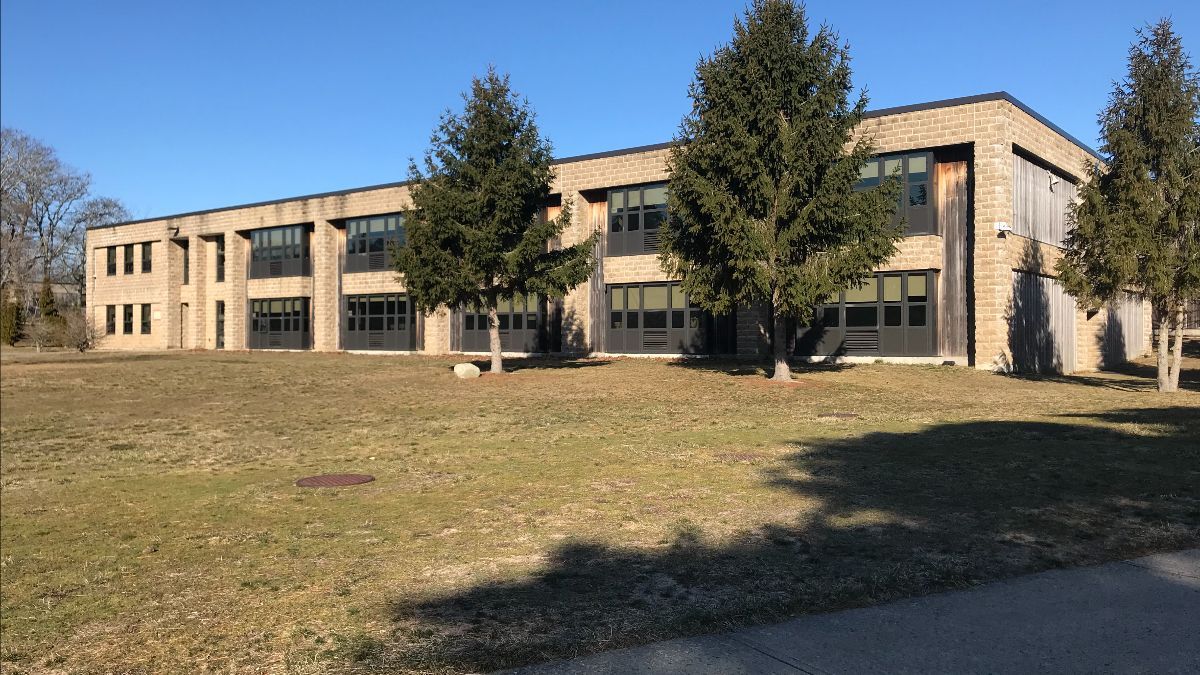 What Happens if We Vote YES? What Happens if We Vote NO?
IF IT PASSES: The design will be finalized by a team of engineers over an 8-9 month period, then the project would go out to bid. The funding will be done in phases, along with the project. There will be three phases of demolition, new construction and renovation beginning in June 2022. The first phase will be the most disruptive, during which the Science Building will be demolished and rebuilt, along with the cafeteria and gym. Trailers and other temporary structures —  similar to the facilities used by the Police Department during construction of the new station — will be used by students over a three-year building and renovation process, ending in the summer of 2025.

The upshot:
Tax increase beginning in 2023 or 2024
School's physical issues addressed
School building debate over
State-of-the-art facility ready by 2025

IF IT DOESN'T PASS:  The $36.6 million that has been awarded to the district from MSBA will be returned to the MSBA program for projects in other Massachusetts school districts. The cost of the feasibility study for the project, for which $1.5 million has been borrowed, will need to be paid back in full, immediately, and divided proportionally among the four towns — $293,000 would be the Orleans share. Significant repairs will be needed in order to ensure safety and to adhere to state requirements. How and when to complete these repairs will need to be determined. It is known already that the 50-year-old boilers need to be replaced, but if repairs in any one year exceed $500,000 — the cost of replacing the original boilers —- it will trigger mandated campus-wide compliance with the Massachusetts State Building Code, requiring a host of repairs and code upgrades which are estimated to cost $98 million, for which MSBA grants are not available.

A smaller school? The process would start from scratch. A new feasibility study would need to be approved and funded, followed by two to three years of review and planning. Theoretically, construction could begin in 2024 or 2025. Factoring for inflation, higher interest rates, higher building costs, and assuming there will be no support from the MSBA —- the MSBA has never awarded funding to a district that has voted down an approved project — this smaller school could cost the four towns an estimated $126 million.

The upshot:
Payback of loan for feasibility study ($293,000 for Orleans)
No immediate plan for the school's future; "back to the drawing board"
Loss of $36.6 million in MSBA grant money
Probable tax increases to address Nauset High's most pressing needs
Probable future tax increases to build according to a new plan
---
Compare the Options
Looking at the cost comparison, it's clear that we won't not be getting out of our Nauset Regional High School "fix" without spending a great deal of money. The longer we wait to make a decision, the more money we are likely to spend. In order to move forward, we need to look beyond unknowns, like enrollment size. We need to look beyond complaints about process — and the unfinished conversation about School Choice.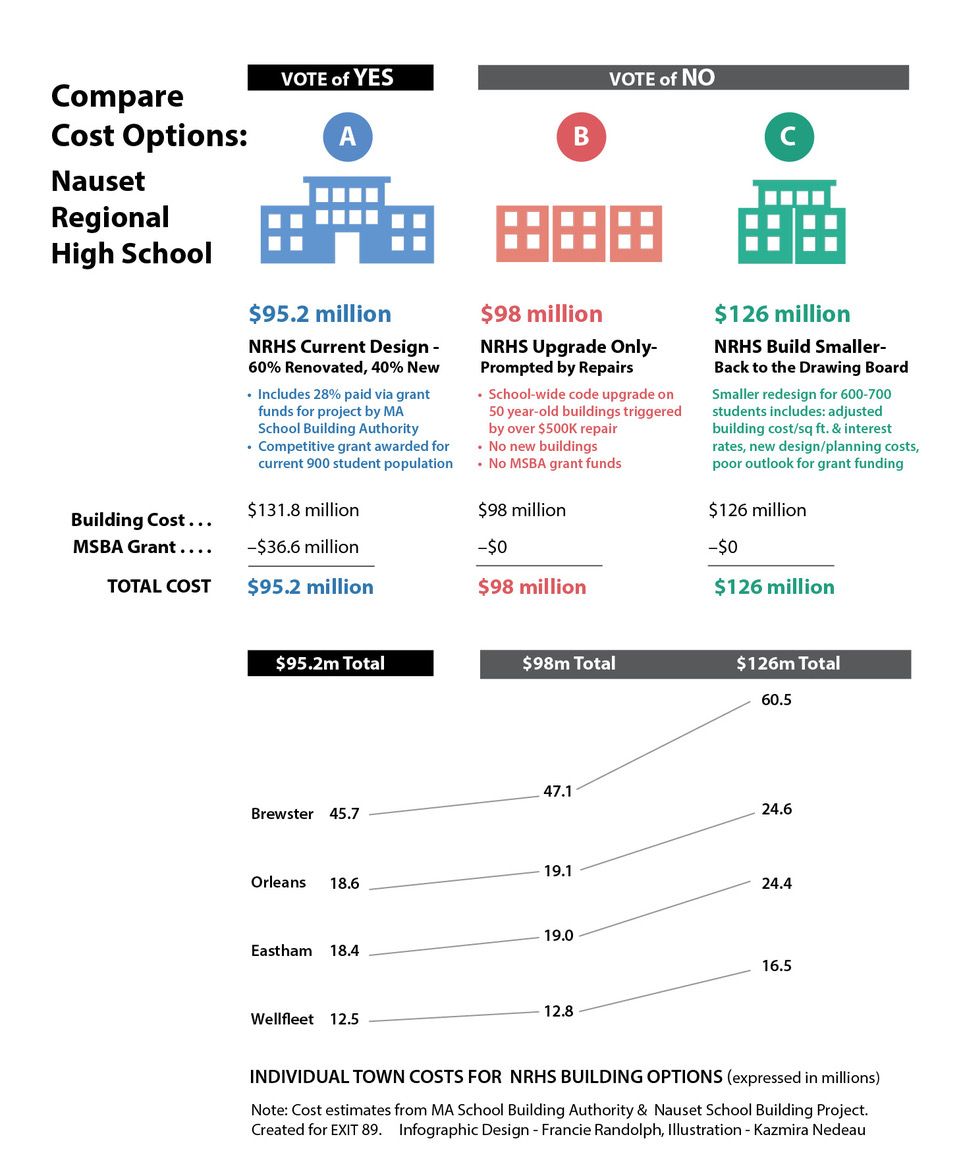 Even skeptics have decided to support the plan. Several members of Finance Committees and Select Boards across the four towns who experienced sticker shock or had reservations about the size — and wondered about the fate of School Choice — have concluded that moving forward is still the best option at the lowest cost to taxpayers. We have a plan. We have state funds. We have favorable interest rates.

Voting in favor requires trust. Trust in the committees and designers, trust in the architects and engineers. It requires trust that the issues of size and School Choice will resolve in a fair way. It requires trust in a future for Orleans and the Outer Cape and the four small towns to continue to be attractive places for a family to raise kids — and send them to good schools. For those who remain skeptical about the plan, there is a final informational zoom offered by the Nauset Building Project on March 24 at 6:30 pm.

For those who remain skeptical about the process, here's another idea: Get involved, join a committee, or begin attending board and committee meetings by Zoom, or watching them on Channel 18. You can find all kinds of ways to help Orleans today — and Orleans tomorrow.
---
Lastly — Why Two Votes?
One vote is for the Nauset Building Project — in favor or against.

One vote is to approve debt exclusion — allowing the Town of Orleans to raise funds to service the debt on our share of the Nauset Building Project as it is, above the amount of our levy or levy ceiling. An exclusion for the purpose of raising funds for debt service costs is referred to as a "debt exclusion" and requires voter approval.

So there you have it. We hope this helps you understand what's at stake. Please share this issue of EXIT 89 on Facebook, Instagram, NextDoor or by email. Make sure your friends and neighbors in Orleans know about this important vote.

See you at the polls on March 30!
---
This edition of EXIT 89 was researched and written by journalists and authors Martha Sherrill and Emily Miller. It is a prototype that is looking for an audience. The Advisory Board currently includes Lynn Bruneau and Elaine Baird. We are all residents of Orleans.
Learn more about EXIT 89.