Orleans voters — about 450 of them — came to the rescue, snatching last Monday's Special Town Meeting from the brink of what felt like total chaos at times.

Despite much procedural confusion, attendees stayed the course, diligently performing their civic duty, standing up time and again to speak passionately for and against articles, and often demanding clarification, more transparency, and better explanations. They sounded alternately frustrated, baffled, suspicious, and even occasionally angry, but they stuck it out to the end — no small feat, considering the often unwieldy meeting ran just over three hours. Things got so convoluted at times, even the moderator seemed to lose the plot.

In addition to frustration, the meeting provoked some of the most inspiring and impassioned remarks in recent years. Orleans residents spoke up against Rock Harbor parking fees, a proposed short-term rentals bylaw, and the need for Code of Conduct, and expressed emphatic opinions on both sides of the fertilizer-ban debate. They also aired concerns about perceived fiscal mismanagement, lack of accountability, and overregulation.

Thirty-one articles passed. One article was "indefinitely postponed" and 4 others failed, due to a wide array of complaints, including claims that 1) articles shouldn't be significantly altered after being printed in the warrant and 2) Special Town Meeting is meant only for urgent matters or "emergencies."
Are these two claims true?
Keep reading. EXIT 89 will shed some light…
---
Our Quick Recap:

Short-term Rental Registration Bylaw – Article 19:  The meeting got underway with a curveball. Since two of the twelve line items being discussed in Article 1, dealing with FY 2023 budget adjustments, were contingent on Article 19 — the adoption of a new short-term rentals registration program — a motion from the floor was approved to consider Article 19 before Article 1. This may have been unexpected, but it is perfectly legal. The discussion of Article 19 got underway, with the proposal receiving a lot of pushback from voters, many of whom felt the new program's fees and rules, which included parking restrictions, occupancy limits, occasional inspections, and contact information for a local agent who'd be available around the clock, constituted an "overreach." The Finance Committee, who voted against the article (1-5-2, For-Against-Abstain), wondered who would enforce the new rules and rejected the article as written. Supporters described the program as a way to gather information on short-term rentals, whose numbers have exploded over the past several years. It isn't clear exactly how many there currently are, but most agree their impact is significant: by driving up a property's short-term rental income potential, versus its annual rental income potential, the booming short-term rental market has been a major factor in our housing crisis. Article 19 failed, 261-182, and will likely return in a clearer, more developed form in the spring.

Parking Program — Article 14: Well, this was a doozy. Here's the backstory: Separate from Nauset and Skaket beach parking lots, which are governed by stickers and kiosks, Orleans has a parking enforcement program intended to ensure residents can access the shoreline at town-owned spots. The program has apparently struggled as a result of a sub-par vendor, leaving Orleans unable to collect on issued tickets. The Select Board set out to hire a new vendor to run the program – hopefully with more success. Funding ($32,500) for this program was meant to be approved through Article 14, which also initially authorized the Select Board to implement parking fees at Rock Harbor. Oddly, these specifics were not included in the article as printed in the Warrant. It proposed "a new parking program at Rock Harbor" and the adoption of a "new non-resident fee." Pretty murky, no?
      The plot thickens . . . After the warrant was printed, the Select Board held a planned public hearing and learned exactly how unpopular the prospect of charging fees to park at Rock Harbor was. In response, they amended the article to exclude the new fees, and presented the new language at Town Meeting on Monday evening.
      Let's pause for a minute here to ask, as many voters did, if it's legal to change the text of an article after the Warrant is printed — even on the floor of the meeting? The answer: an unqualified YES. According to the web page of the Massachusetts Secretary of State's page A Citizen's Guide to Town Meeting, "the warrant generally states the things to be voted on, but the moderator may interpret the articles liberally."
      The problem was that the revised article, as read aloud by Select Board Member Mark Mathison, still contained the words "FUND NEW PARKING PROGRAM AT ROCK HARBOR" in its title, though not in the motion itself. Town officials continued to insist it only pertained to funding the new software for the town-wide program — and not to introduce new fees. Boy, were people confused. 'Round and 'round they went, 27 speakers in total, trying to grapple with what exactly they were being asked to vote on, why and when the changes to the article had been made, and if any of it was even kosher. After 39 minutes and 38 seconds of trying to cut through the fog, Orleans Natural Resources Manager and Harbormaster Nate Sears, who manages shoreline access, was able to persuade enough voters that this was simply about a new software vendor. Article 14 passed, 340-130.
Fertilizers – Article 32: The longest debate of the evening — 43 minutes and 44 seconds — was inspired by a proposal to direct the Select Board to petition the Commonwealth of Massachusetts to allow Orleans to prohibit the application of fertilizer except for the purposes of commercial agriculture and the residential use of organic fertilizer (with low nitrogen and phosphorus) for growing fruits and vegetables. The premise is that fertilizers contribute to the nitrogen and phosphorus overload in our coves, estuaries and ponds. Arguments against the article got underway, led by the Finance Committee (which voted against the article, 1-7-1, For-Against-Abstain), which described the waters of Orleans in need of protection but said this wasn't the way to do it. Educating residents and property owners would be better. Household use was said to contribute only 2% of the excess nutrients in the troubled waters of Orleans.
      Supporters of the measure, many of whom were members of the shellfishing community, spoke passionately, remembering a time when scallops and flounder were abundant in Mill Pond and elsewhere, and how these spots are now "dead bodies of water" — places where no scallop, oyster or quahog can survive. Several speakers made the point that dredging to enhance tidal flushing should be a priority going forward. Pushing back against the stated metrics, speakers asserted that household fertilizers could contribute as much as 14%, or more, of the overload, and that the recent explosion in construction has changed the landscape dramatically. Also, they asked, why would we spend $100 million and more on wastewater clean-up but continue to dump harmful materials back into our estuaries and ponds?
      Organic gardeners discussed the toxicity of all fertilizers, even slow-release, organic ones. Others weren't concerned. "I don't want some board telling me what I can put on my petunias," said one resident, expressing the indignation that many seemed to feel at the proposed regulations. "Drive around Orleans and you'll see lots of bright green lawns using fertilizers," said another voter, calling for more education. If anyone wondered what their lawns would look like without chemical enhancements, one resident gave his address and invited voters to come see his natural "Cape Cod lawn." When one voter proposed a motion to postpone the vote until the spring Town Meeting, when presumably more residents would be present — claiming that Special Town Meetings are only intended for urgent or emergency matters — several others made the argument that the state of our waters is an emergency. The vote to postpone the vote failed by a large margin. In the end, Article 32 narrowly passed (but by the necessary simple majority): 204 to 200.
Code of Conduct Policy — Articles 23: The only truly controversial amendment to the Home Rule Charter asked the Select Board to institute a "Code of Conduct" policy for town officers, members of multi-member bodies, and citizens relating to "the practices, procedures, and behavior for conducting town business." The first speaker spoke passionately against the creation of a code of conduct. Others followed suit. Ten individuals spoke over a period of 11 minutes and 21 seconds, describing this measure as unnecessary, troubling, silencing free speech for some, and unconstitutional. "Who's going to monitor the monitors?" one voter asked. Article 23 did not pass.
      Following that, two other Home Rule Charter amendments also failed, apparently as a result of the statement by a speaker that Home Rule Charter articles did not belong at a Special Town Meeting, because they did not address urgent or emergency matters. This led to a short-lived rebellion that brought down Articles 24 + 25 as well.
But . . . is that true?
Are there certain things that can or cannot (or should or should not) be discussed at certain meetings?
EXIT 89 researched the answer: We found no prohibitions in  Massachusetts Law pertaining to Town Meetings. There is a section in the Appendix of Orleans' Town Code  that specifies Special Town Meeting Warrants "shall only contain articles of an emergency or unforeseen nature" and "articles postponed at a preceding Annual or Special Town Meeting or to fund current year capital improvements which are in the Capital Improvement Plan." But there are also exceptions stipulated for articles approved in advance by the Select Board, and those brought by citizen petition.
So, there you have it; another Special Town Meeting on the books. At 9:20 or thereabouts, the brave and weary attendees filed out of the Nauset Middle School gym into a downpour. We hope they felt gratified, too, after spending three sometimes frustrating hours in the service of their town.
---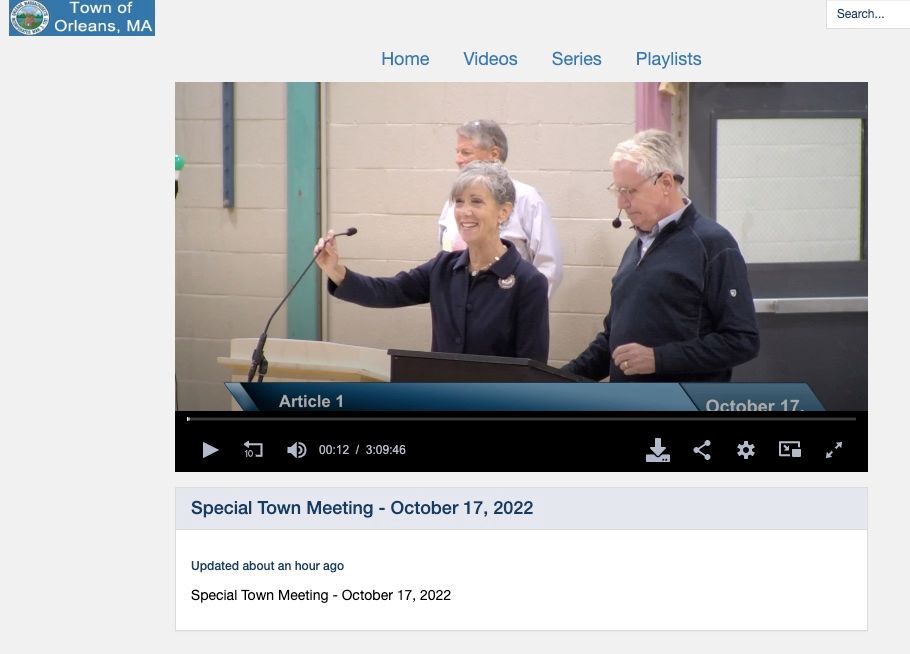 Want to Watch a Video of the Meeting?
You can watch the whole thing, if you want. You really can! (Why bother with The Crown?) Channel 18 has a page on the Town website offering meeting videos on-demand. Click here to watch. And follow along with the EXIT 89 preview, here. A vote-by-vote account of the meeting will be posted on the Town website soon — on the Town Clerk's page, under "Election Results."  Stay tuned.
---
Vote Again, Dec. 6
Next up is our Annual Election, held December 6, 2022, between 9 AM and 7 PM, at the Council on Aging Senior Center, 150 Rock Harbor Road. Click here for a sample ballot with six questions. EXIT 89 will be sending out a reminder as the date draws near. And before that, we plan to have an update on affordable housing, Governor Prence, sewering, and the selection process underway for a new Town Manager.
---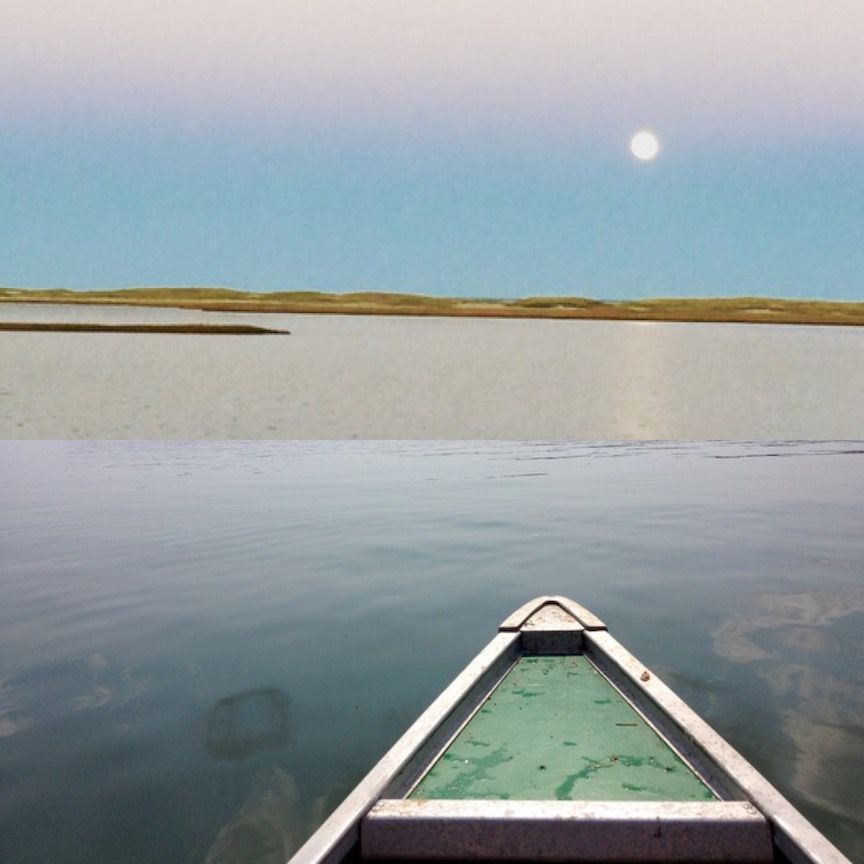 EXIT 89 is researched and written by journalists and authors Martha Sherrill and Emily Miller. Editing and tech support provided by Kazmira Nedeau. The Advisory Board currently includes Lynn Bruneau and Elaine Baird. We are all residents of Orleans.