The Warrant was short — 33 articles.
The meeting? Not exactly. Over nearly three and a half hours, residents approved all but two articles. Most passed swiftly but a few sparked long discussions. Voters — about 450 showed up — gave a warm welcome to Kim Newman, our new Town Manager, making her first Orleans Town Meeting appearance.
Keep reading for a quick recap of the night.
The Special Town Meeting Warrant can be found here.
For EXIT 89's preview of the meeting, which explains key articles, click here.
---
OUR QUICK RECAP:
Fire & Rescue: Once again, Orleans residents rallied around our first responders. Article 3, which asked for $1,156,000 to hire, equip, and train eight new firefighters, passed 423-28, after 20 minutes. All ten speakers voiced support and gratitude for the Fire & Rescue Department. Two questioned the need for all eight positions, in light of the news that Orleans did not receive a FEMA grant to help with funding. Article 4 — $500,000 in additional funding for a new 100-foot aerial ladder truck — also passed by a wide margin, 406-45. To watch a video of Fire Chief Deering discussing these articles, click here.
---
Town Hall Changes: Voters were on board with improving how Orleans town government works. Article 11 and Article 12, funding succession planning and reorganization-related expenses, as well as a dedicated, full-time Human Resources position, both passed easily and quickly. So did Article 13, which will fund two new Recreation Department positions — one full-time and one part-time. Our new full-time Recreation Director, Tom DeSiervo, starts November 13.
---
Pickleball: Article 10 requested that $25,000 from the Community Preservation Fund go toward designing new pickleball courts "or other municipal uses" on the site of the old DPW garage on Bay Ridge Lane. After the article was introduced, nine speakers shared a range of mixed views. One resident with a background in municipal recreation urged Orleans not to do things piecemeal — undertaking "one-off" projects" without a master plan. One voter asked why we weren't focussed instead on finding land for a new Fire & Rescue building. Another voter noted the lack of basketball courts and back-stops. One skeptical resident asked, "How long before the pickleball fad dies?" Tracy Murphy, Chair of the Orleans Recreation Advisory Committee, said a master plan for the athletic fields is in the works but given the strong community support for pickleball, this article made sense — "a rare instance of a need and an opportunity actually matching up." Voters, however, weren't willing to serve up the funds. After a 13-minute discussion, the article failed, 207-240.
---
Environmental Stewardship:
Nearly one-third of the 33 Warrant articles pertained to restoring or protecting our waters, flora and fauna, reducing fossil fuel dependence and the use of harmful chemicals, and encouraging sustainable energy use. Some of these environmental measures got a mixed reception. A vocal minority repeatedly stood up to defend individual rights and freedom of choice, opposing proposed "green" initiatives, despite the fact that the Massachusetts Department of Energy Resources (DOER) has designated Orleans a "Green Community," along with Harwich, Yarmouth, Mashpee, Provincetown, Truro, and Wellfleet. Here's what happened in a nutshell:
---
Article 6 proposed setting aside $200,000 from Free Cash to have on hand for future environmental and energy-saving projects around town — possibly including hydration stations, solar-powered waste bins, and EV charging stations, and related initiatives. The 16-minute long discussion involving 11 speakers took some twists and turns — including the pros and cons of electric vehicles — before the question was moved and voters approved the article, 272-181.
---
Pesticide Reduction: Residents lined up at the floor microphones to opine on Article 24, a Home Rule Petition for reducing use of toxic pesticides on both public and private property in Orleans. Michael Herman, Chair of the Select Board, introduced the article. Chris Kanaga, representing the three "nay" votes of the Finance Committee, argued that the bylaw is too restrictive and should be reconsidered and brought back before the Annual Town Meeting in May. Constance Kremer, speaking on behalf of the Finance Committee "aye" votes, said, "It costs us nothing but has the potential to have a major impact going forward." Stephanie Ellis, Executive Director of Wild Care, a local non-profit that helps sick, injured, or orphaned wild animals, spoke about the plummeting bird population over the past 50 years and the increasing numbers of animals she sees that have ingested rodenticides or rat poison, especially owls and hawks. "They're the canaries in the coal mine," Ellis said. "It's foolish to believe that if these chemicals are affecting them, they're not affecting us." Two local high school students — Coleman Lincoln of Cape Cod Academy and Edie Spiegel of Nauset High School — also spoke in favor of the petition, which passed after 21 minutes of discussion, 288-133.
---
Greener Energy Code: Whether or not to adopt the Specialized Energy Code — an "opt-in" update to the already-in-place Stretch Energy Building Code — was the subject of Article 30, sparking an impassioned 32-minute-long discussion with 19 speakers. The new code would apply to new mixed-fuel construction, municipal and commercial buildings, new single-family homes over 4,000 square feet, and new multi-family housing over 12,000 square feet, and would go into effect in July, 2024. Supporters reminded us that we adopted the Stretch Energy Building Code in 2018, by vote at Town Meeting — which triggered our designation as a "Green Community." They described the opt-in regulations as smart measures that would help Orleans meet State energy goals and save property owners money on energy costs in the longer term, despite up-front costs. As Hakim Janah, Vice Chair of the Orleans Energy and Climate Action Committee, stated, we should adopt the new code now instead of trying to "catch the train after it's left the station." Opponents raised doubts about the benefits of electricity over gas, the overreach of government on individual liberties, and the burdensome nature of adding new regulations, along with increased up-front costs. According to one resident, an architect, "we can barely keep up." A local builder said the amended code would drive up already-high building costs, and further inhibit the construction of affordable housing. The question was moved with multiple residents still queued up to speak. Ultimately, the article failed narrowly, 179-189.
---
Pilgrim Lake: What's worse, the disease or the cure? Article 32 — a proposal to fund an alum treatment for cyanobacteria at Pilgrim Lake — divided eco-passionate residents into two camps. One camp was eager for remediation of the toxic algae as soon as possible. The other camp worried about the long term impact of using the chemical. For 36 minutes and 28 seconds, residents lined up at microphones to voice concerns over the effects of cyanobacteria on wildlife, people, and quality of life, while others voiced concerns over the potentially harmful effects the alum could have. Ed Eichner of the School of Marine Sciences and Technology at the University of Massachusetts Dartmouth, who assisted in preparing the 2019 Pilgrim Lake Management Plan, described the treatment as an interim measure to protect the lake until the surrounding properties are connected to the town's sewer system. (According to the management plan, about 75 percent of the "nutrient overload" is caused by the septic systems of 19 properties that abut the lake.) Many speakers in support of alum were residents living on or near the lake. Judy Scanlon, longtime member and former Chair of the Orleans Marine & Fresh Water Quality Committee, voiced her concern for the herring population and made an impassioned pro-alum speech that she called her "herring song," describing how alum had been used effectively and safely on at least 15 other Cape Cod lakes and ponds. Both the Select Board and the Finance Committee were divided on the issue. Kevin Galligan, Select Board member and Chair of the Wastewater Management Advisory Committee, who'd changed his initial "yes" vote to "no," worried about the treatment's impact on the lake's prized freshwater blue mussels. Finance Committee member Constance Kremer, who lives near Pilgrim Lake, spoke in favor of the alum, saying it's necessary to protect wildlife, kids, and recreation. Elaine Baird, also of the Finance Committee, explained why she didn't support the treatment, calling it a Band-Aid and worrying about its unknown long-term effects on the greater ecosystem. Finally, the question was moved and the article passed, 217-57.
Plans for the treatment still need approval from the Orleans Conservation Commission and the State to go forward. (Because Pilgrim is a "Great Pond" due to size, it is therefore public and under State jurisdiction.) If those approvals are granted, treatment could start as soon as late February/early March.
---
Want to Know More?
---
Special Election Coming Up
Our Special Town Election is Tuesday, November 7, 9:00 AM - 7:00 PM at the Council on Aging Senior Center. Three questions related to the Fire & Rescue articles and Recreation Department staffing, which passed at Town Meeting, need approval of Prop 2 ½ overrides. The ballot will look like this: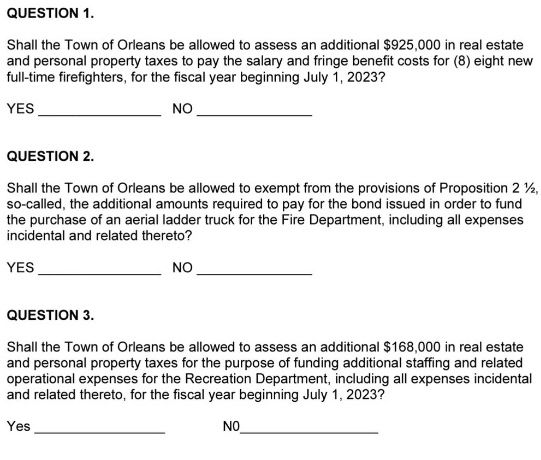 ---
Want to Be More Involved?
For a list of Town committees that need members, click here.
A "Citizen's Interest Form" can be found here.
---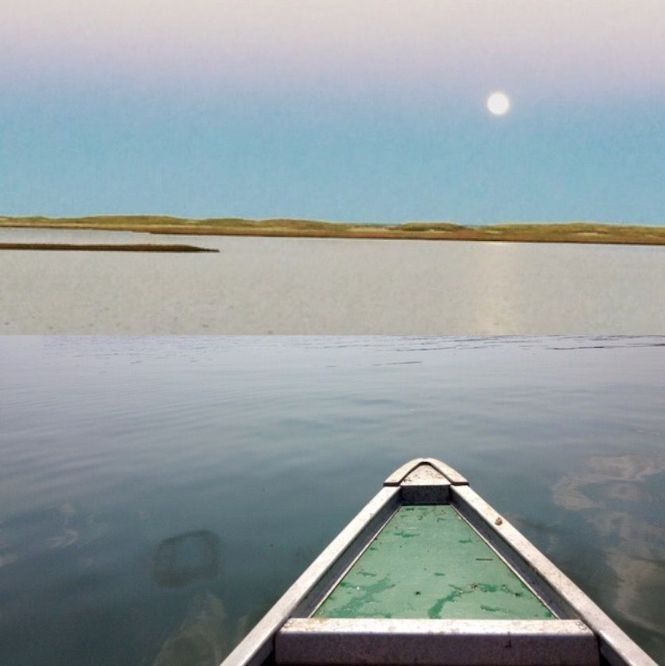 EXIT 89 is an independent publication. Our mission is to help Orleans voters make sense of town issues by providing a clear and impartial overview of the latest developments. We want to help fill the current information gap, reduce the "mystery" of Town Meeting, and promote vibrant civic engagement.
Our hyperlocal digest is researched and written by journalists Martha Sherrill and Emily Miller. Elaine Baird and Lynn Bruneau are the founding advisors. Editing, infographics and tech support are provided by Kazmira Nedeau of Sea Howl Bookshop. We are all residents of Orleans.
Our digest is 100% free — and we aim to keep it that way. With Lower Cape Television (LCTV) — a 503(c)(3) — as our fiscal sponsor, all contributions are now tax deductible. Donations by a check made out to "EXIT 89" will save us a processing fee. Please send these to: EXIT 89, P.O. Box 1145, Orleans, MA 02653. To donate online, click here.
As always, we'd love to hear from you. Readers have enriched our understanding of Orleans — and sharpened our focus. Please share questions, comments, and ideas for future issues at hello@exit89.org. And if you are new to EXIT 89 take a moment to sign up for a free subscription.